✤ View another piece from this Opus / Collection →
A donna bella e crudele
Originally for Soprano and basso continuo.
Original Language:
Italian
Perle care e pregiate
Dall'ocean venute,
Perché state
Fra due labbra che son mute?
Gite a bocca che risponda
O tornate in grembo all'onda.
Neve, tu che cadesti
Sovra un alpestre scoglio,
Perché resti
In quel sen pieno d'orgoglio?
Trova un petto più gentile
O ritorna all'Alpe vile.
Oro, che nobil vanto
Sei dell'Indico lido,
Perché tanto
Orni il crine a volto infido?
Vanne a men severa fronte
O ritorna in seno al monte.
Sangue, che sulle rose
Ha Ciprigna versato,
Chi ti pose
Ostro bel su volto ingrato?
Corri a guance più serene
O alla dea torna in le vene.
Stelle, voi che negl'occhi
Splendete di costei,
Che vi tocchi
D'illustrare occhi sì rei?
Gite a ciglia meno altere
O tornate all'alte sfere.
To a beautiful and cruel woman
Precious and costly pearls
that came from the sea,
why do you remain
within two lips that are silent?
Move to a mouth that responds,
or go back to the deep of the ocean.
Snow, falling
on a craggy rock,
why do you linger
in that breast full of disdain?
Find a more obliging heart,
or go back to the barren mountains.
Gold, noble treasure
of the Indian shore,
why do you so richly
adorn the hair that surrounds such a deceitful face?
Go to a less austere brow
or return to the depths of the mountain.
Blood, imbued in roses
by Venus,*
who has put your beautiful scarlet
on such an ungracious face?
Run to more good-natured cheeks
or return to the veins of the godess.
Stars, you who
glisten in her eyes,
what makes you
glorify such wicked eyes?
Go to a brow less proud
or return among the spheres above.
Translated by:

Richard Kolb

* In Greek mythology Cyprus was the center for the cult of Venus.
Find the score...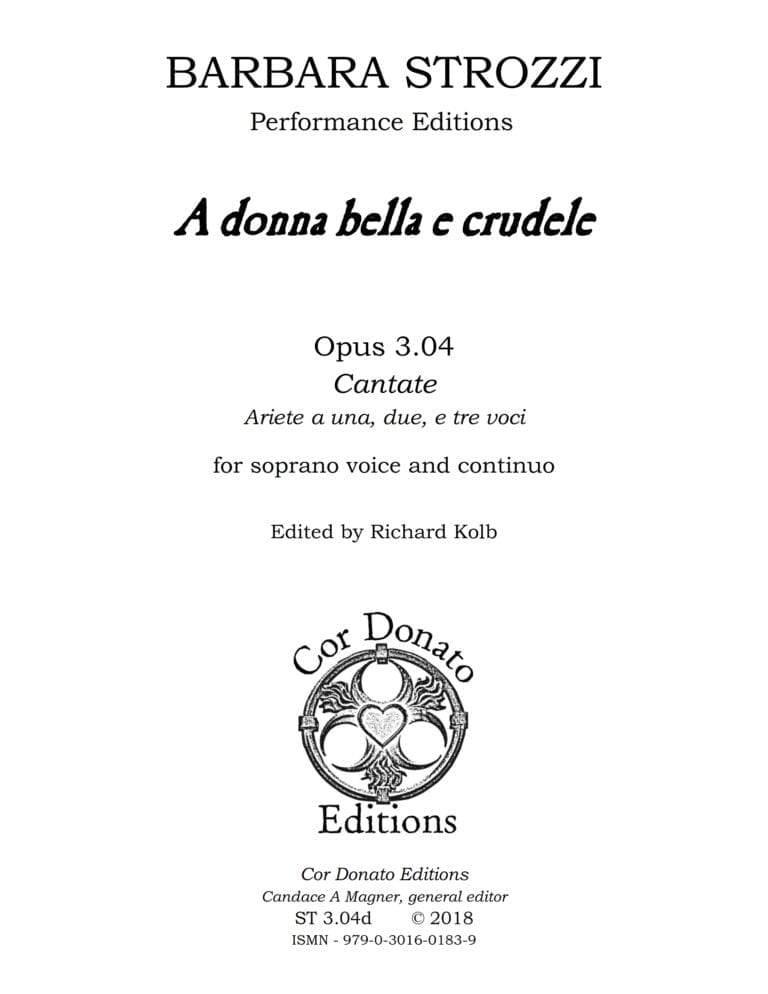 Published by Cor Donato Editions in historically correct modern transcription, including critical introductory notes on the work, editorial procedures, original Italian texts with new English translations, and other contextual information about the piece.
Now available at CorDonatoEditions.com!
Purchase score →