✤ View another piece from this Opus / Collection →
Con male nuove, non si può cantare
Originally for Soprano and basso continuo.
Original Language:
Italian
Questa, questa è la nuova
Ch'io v'ho da dire amanti:
Ch'amando non si trova
Altro che pene e pianti.
Ben il mio cor il prova,
E volete ch'io canti?
Senta, senta chi brama
La canzonetta udire:
Non s'ama, nò, non s'ama
Senza pena e martire.
A chi m'invita e chiama,
Altro non ho che dire.
Deh, cantar non mi fate,
Che la canzon peggiora.
Quante bevande ingrate
Fugge chi s'innamora.
Ha poca caritate
Chi vuol ch'io canti ancora.
With bad news you can't sing
Here's the news
I want to give you, lovers:
In love there's nothing to be found
except pain and tears.
My heart feels it deeply,
and you want me to sing?
Listen, you who want
to hear the song:
You can't love
without affliction and suffering.
To those who want me to sing
I've got nothing more to say.
Please, don't make me sing,
for the song only makes things worse.
Those in love
avoid many an unpleasant drink.
Anyone who still wants me to sing
doesn't have much charity.
Translated by:

Richard Kolb

Find the score...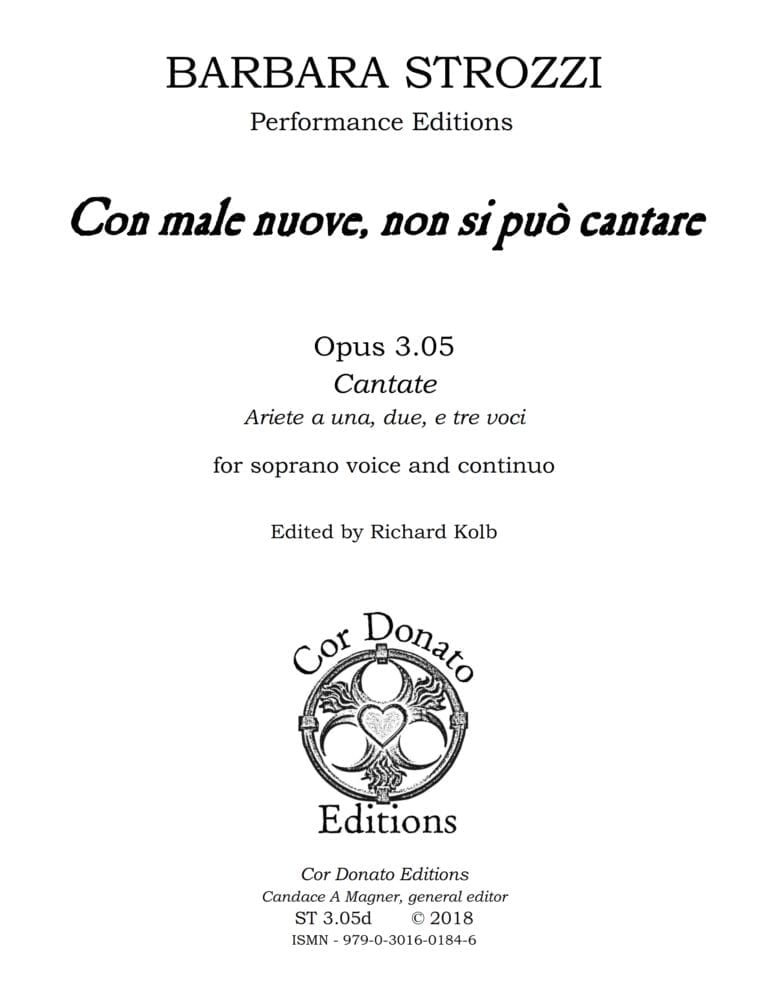 Published by Cor Donato Editions in historically correct modern transcription, including critical introductory notes on the work, editorial procedures, original Italian texts with new English translations, and other contextual information about the piece.
Now available at CorDonatoEditions.com!
Purchase score →