✤ View another piece from this Opus / Collection →
Desideri vani
Trio originally for two Sopranos, Bass, and basso continuo.
Original Language:
Italian
Desideri, che sperate
Di gioir? Voi v'ingannate.
Può ben grand' ale ingigantito il core
Spiegar al ciel d'amore,
Mentre dalla crudel che vi fa guerra
Vostre speranze in terra
Piombano fulmiate.
Desideri, che sperate...
In vano ergete ardimentoso il guardo
Ad un seren bugiardo,
Mentr'al vostro salir fiere procelle
Dalle nemiche stelle
Vengono minacciate.
Desideri, che sperate...
Vain Desires
Desires, what do you hope to enjoy?
You're deceiving yourselves.
The heart can well soar
on giant wings in the sky of love,
but the cruel one at war with you
will send your hopes
plumetting in flames to the ground.
Desires, what do you hope...
In vain you raise your fervent eyes
to a treacherous face,
but your aspirations are threatened
with fierce storms
from the enemy stars.
Desires, what do you hope...
Translated by:

Richard Kolb

Find the score...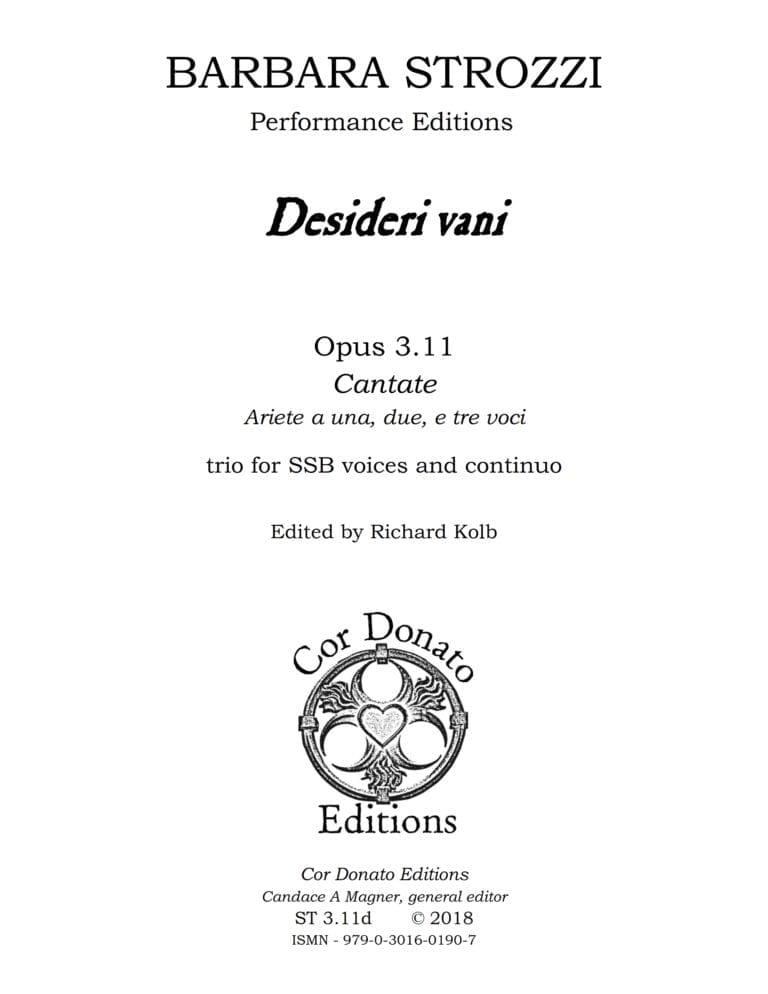 Published by Cor Donato Editions in historically correct modern transcription, including critical introductory notes on the work, editorial procedures, original Italian texts with new English translations, and other contextual information about the piece.
Now available at CorDonatoEditions.com!
Purchase score →