✤ View another piece from this Opus / Collection →
Moralità amorosa
Originally for Soprano and basso continuo.
Original Language:
Italian
Sorge il mio sol con mattutini albori,
E intento a coltivar beltà divine
Con profumi odorosi incensa il crine
Per aditar altrui come s'adori.
Poscia con sottilissimi candori
Sparge del aureo capo ogni confine,
Che di polve di Cipri argente e brine
Fanno officio di smalto in su quegli ori.
Mentre così in bella man s'impiega,
E fra ceneri e fumi il crine involve,
In catene di foco il cor mi lega.
Che meraviglia è poi se si dissolve
La bellezza in brev'ora, e chi mi nega
Che fugace non sia, s'è fumo e polve.
Love's Moral
My love rises with the early dawn,
and intent on cultivating divine beauty,
with fragrant scents perfumes her hair
to show the world how adornment is done.
Then with finest whiteners
she sprinkles her golden hair all over,
with Cypress powder of silver and frost
giving the effect of enamel overlaid upon the gold.
As her beautiful hands are thus employed,
and her hair is infused with ashes and smoke,
my heart is bound in chains of fire.
So it's hardly a marvel that
beauty dissolves quickly, and who can deny
that it must be fleeting, since it's smoke and dust.
Translated by:

Richard Kolb

Find the score...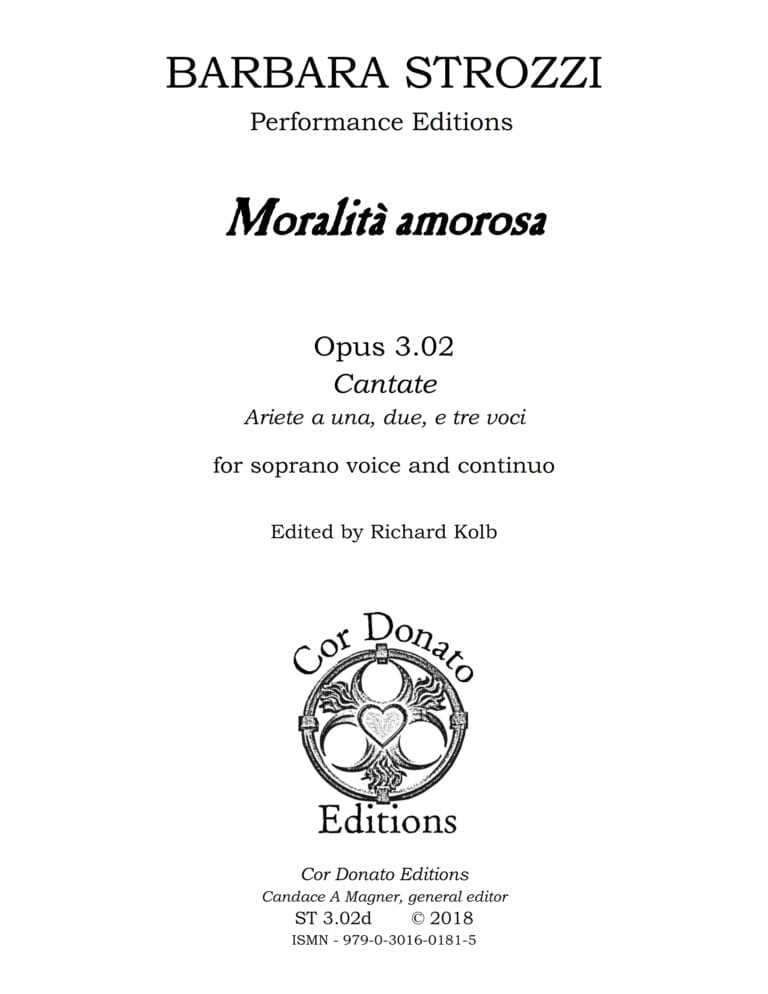 Published by Cor Donato Editions in historically correct modern transcription, including critical introductory notes on the work, editorial procedures, original Italian texts with new English translations, and other contextual information about the piece.
Now available at CorDonatoEditions.com!
Purchase score →