✤ View another piece from this Opus / Collection →
Tradimento
Originally for Soprano and basso continuo.
Original Language:
Italian
Tradimento, tradimento!
Amore e la speranza
Voglion farmi prigioniero,
E a tal segno il mal s'avanza,
Ch'ho scoperto ch'il pensiero
Dice d'esserne contento.
Tradimento, tradimento!
La speranza per legarmi,
A gran cose mi lusinga,
S'io le credo avvien che stringa
Lacci sol da incatenarmi.
Mio core all'armi,
S'incontri l'infida,
Si prenda, s'uccida,
Su presto, su presto!
E periglioso ogni momento.
Tradimento, tradimento!
Betrayal!
Betrayal! Treason!
Love and Hope
want to make me a prisoner
and my sickness is so advanced
that I have discovered that I am happy
just thinking of it.
Betrayal!
Hope, in order to bind me,
entices me with great things.
The more I believe what she says
the tighter she ties the laces that enchain me.
My heart, take arms
against the treacherous one!
Take her and kill her,
hurry, hurry!
Every moment is dangerous.
Betrayal!
Translated by:

Candace A. Magner

Find the score...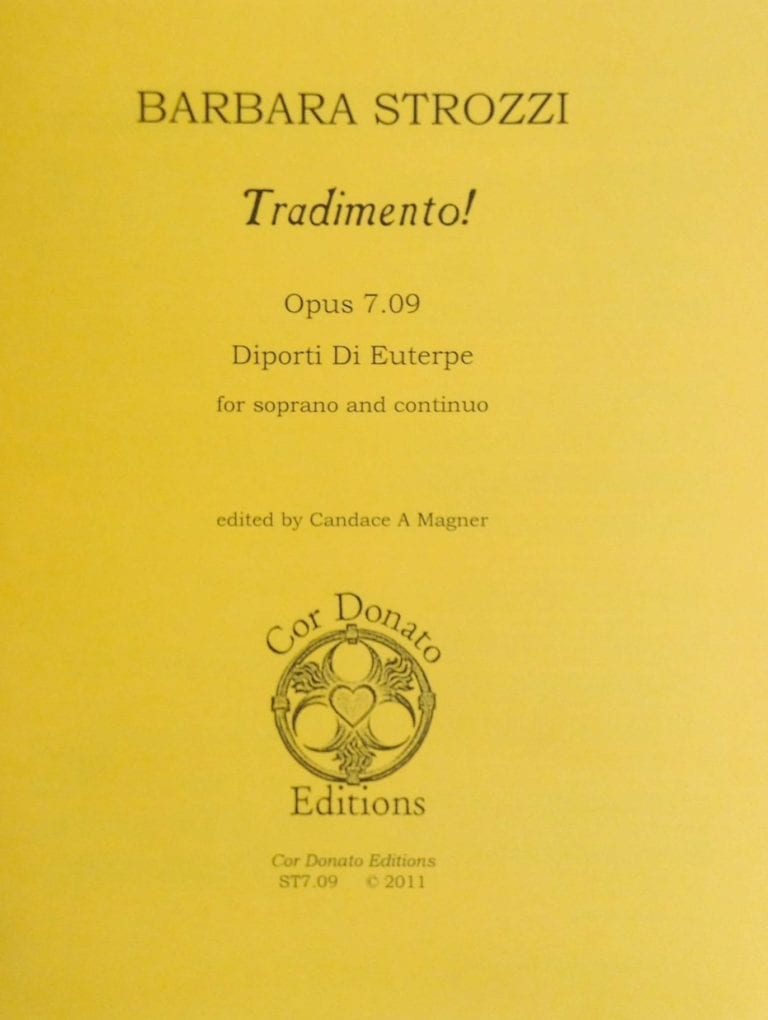 Published by Cor Donato Editions in historically correct modern transcription, including critical introductory notes on the work, editorial procedures, original Italian texts with new English translations, and other contextual information about the piece.
Now available at CorDonatoEditions.com!
Purchase score →