✤ View another piece from this Opus / Collection →
Donne belle
Originally for Soprano and basso continuo.
Original Language:
Italian
Donne belle è vanità
Il dire ch'il core
Al male d'amore
Rimedio non ha.
Altri ha fede alla speranza,
Altri al tempo i voti porge,
Altri pure alfin s'accorge
Che non val la lontananza.
Io ch'a prova il fè
Per pietà vel dirò:
Il rimedio d'Amor è l'incostanza,
E credetelo a me, che così stà.
Donne belle...
Non tormenta gelosia,
Credeltà non crucia il seno;
Siasi Adone, o sia Bireno,
Mai dira la sorte è ria.
Tal sempre in libertà
Alfin s'accorgerà
Che'l dolersisi d'Amore è una follia,
E credetelo a me, che così stà.
Donne belle...
Beautiful ladies
Beautiful ladies, it's foolish
to say that the heart
has no remedy
for lovesickness.
Some put their faith in hope,
others swear allegiance to time,
and others realize
that separation is not a solution.
I, who know from experience,
in sympathy will tell you:
the remedy for love is inconstancy,
and believe me, that's how it is.
Beautiful ladies...
Jealousy doesn't torment,
Cruelty doesn't torture the breast;
whether it's Adonis or whether it's Bireno,*
they'll never say that fate is cruel.
Thus ever remaining free,
in the end you'll see
that suffering from love is folly,
and believe me, that's how it is.
Beautiful ladies...
Translated by:

Richard Kolb

* In Greek mythology Adonis was loved by both Aphrodite and Persephone. Bireno, in canto 10 of Ariosto's Orlando furioso, is unfaithful to Olympia.
Find the score...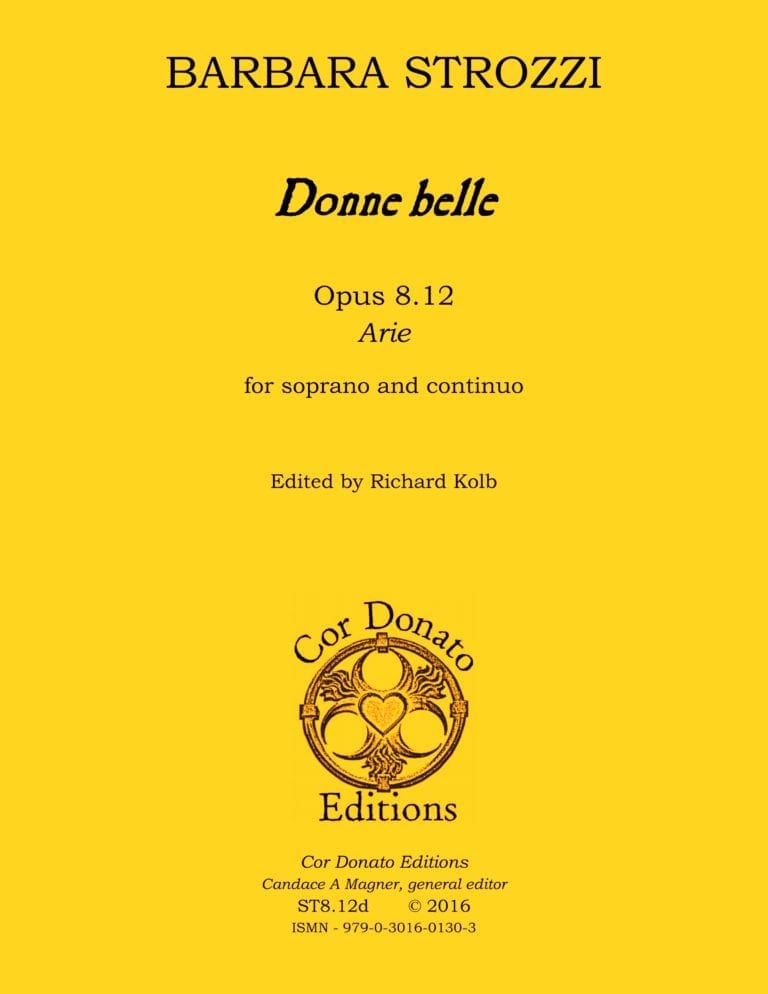 Published by Cor Donato Editions in historically correct modern transcription, including critical introductory notes on the work, editorial procedures, original Italian texts with new English translations, and other contextual information about the piece.
Now available at CorDonatoEditions.com!
Purchase score →
Find recordings...
Oh dear! No recordings exist of this piece. Perhaps you shall be the very first to publish one!