✤ View another piece from this Opus / Collection →
E giungerà pur mai
Originally for Soprano and basso continuo.
Original Language:
Italian
È giungerà pur mai
alle linea crudele
de miei lunghi tormenti il punto (ò forse)
fatte son senza fine
figlie d'eternità le mie ruine
terminerà mai
d'agitarmi il destino
d'affligermi la sorte, nò, nò, nò, nò
che solde miei guai fine è la morte.
Troppo Barbara è crudele
è la stella che tirannami
con danna a rei martiri
son tributi di ciel.
Pianti e sospiri son troppo severe
le luci beate son troppo guerriere.
Due ciglio in arcate ond'io ferite (ahì lasso)
senza speranza di salute (Oh Dio)
bersaglio a doppio telo son morto
in vita e disperato in cielo.
Ah sì, deh vieni ò morte
à consolar mia vita
chiuderò gl'occhi al fine
in sempiterna notte
à dispetto del ciel d'amore a scorno.
Se dico che deliro chiamo
la notte è m'ha ferito il giorno.
Sì, sì, vieni o mio bel dì
mentre amando avampo e moro
che crudel così anco Barbara t'adoro.
Così folle d'amore
parlava nò ma delirava un core
quando per trarlo il cielo
da Barbara prigione consigliolo à partire.
Che non si vince Amor che col fuggire.
The Cruel Line Of My Endless Torments
The cruel line
of my endless torments
will never reach its end (or perhaps?)
they are made without end,
daughters of eternity, my misfortunes
will not cease
to agitate my destiny
to afflict my luck, no,
then the only end to my sorrows is death.
Too barbarous and cruel is the star
which despotically condemns the accused
to martyrdom, the weeping and sighing
are tributes from heaven.
The blessed eyes are too severe,
the arched eyebrows too fierce.
For this, wounded (poor me!),
with no hope of salvation (dear God!),
target of a double arrow,
I am dead in life and despairing in heaven.
Oh yes, oh come, oh death
to console my life,
I will close my eyes in the end
in an eternal night
in spite of the heavens, for a love scorned.
If I say I am delirious I call the night
and it is the day which has wounded me.
Yes, come, oh my lovely day,
loving in which I am consumed and expire
for in spite of your barbarous cruelty I adore you. In this way, a heart crazed with love
did not speak, no, it ranted,
when to free it, the heavens from so barbarous a prison counseled a leave-taking,
for Love is not vanquished but by fleeing.
Translated by:

Richard Kolb

Find the score...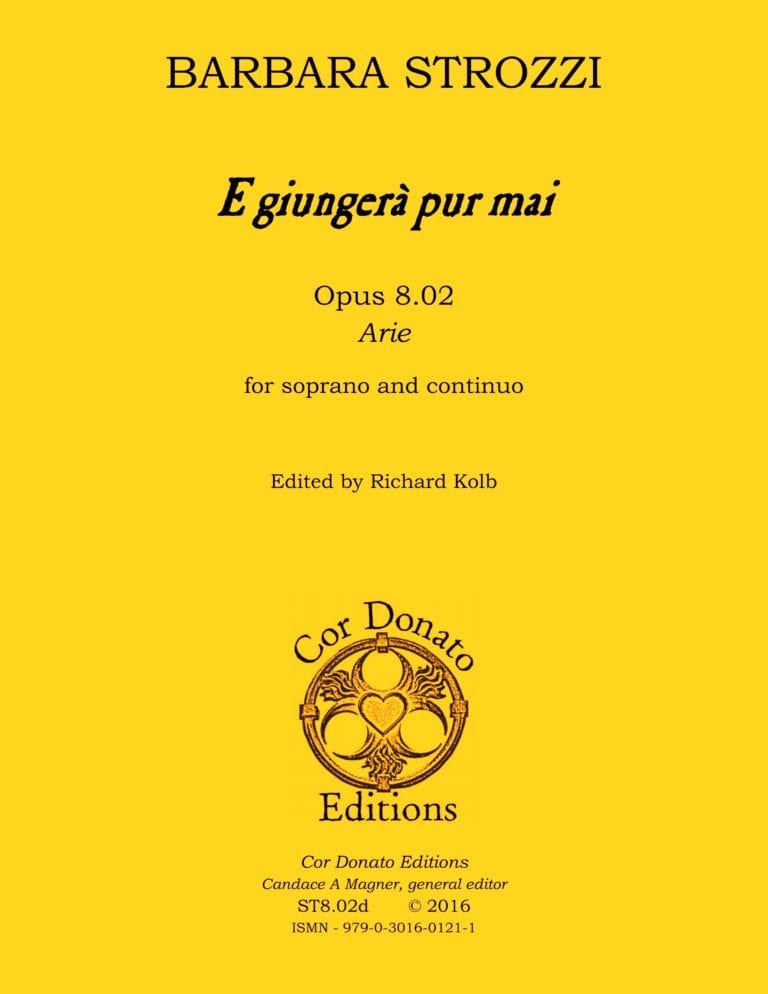 Published by Cor Donato Editions in historically correct modern transcription, including critical introductory notes on the work, editorial procedures, original Italian texts with new English translations, and other contextual information about the piece.
Now available at CorDonatoEditions.com!
Purchase score →