✤ View another piece from this Opus / Collection →
Ferma il piede
Originally for Soprano and basso continuo.
Original Language:
Italian
Ferma il piede o traditore.
Non t'avvedi ch'a miei danni
Tess' inganni
Per traffiger il mio core.
Ne gl'avori di quel seno
Sta la gioia del mio affetto.
Se t'accosti in un baleno
Tu mi rubbi il cor dal petto.
Dunque tropo m'offendi
Se qual Ape pretendi
Per mio mal di succhiar il mio bel fiore.
Ferma il piede...
Ma se tenti quella bocca
Cerchi insieme il tuo perire,
Poi ch'il ciel fulmini scoccha
Contro ogn'un ch'usa tradire.
E più fieri gl'aventa
Contro ogni cor, che tenta
D'ingannar chi è legato in man d'Amore.
Ferma il piede...
Stop right there
Stop right there, oh traitor.
You don't realize how for my peril
you set snares
to pierce my heart.
In the ivory of those breasts
the joy of my passion abides.
If you approach, in an instant
you steal the heart from my breast.
Thus you wrong me too much
if like the bee you mean to consume
my beautiful flower and leave.
Stop right there...
But if you attempt to reach these lips
you're seeking your death at the same time,
Since heaven shoots lightning bolts
against all who make a habit of betrayal.
And they are stronger
against any heart that tries
to defraud one who is bound by the hand of Love.
Stop right there...
Translated by:

Richard Kolb

Find the score...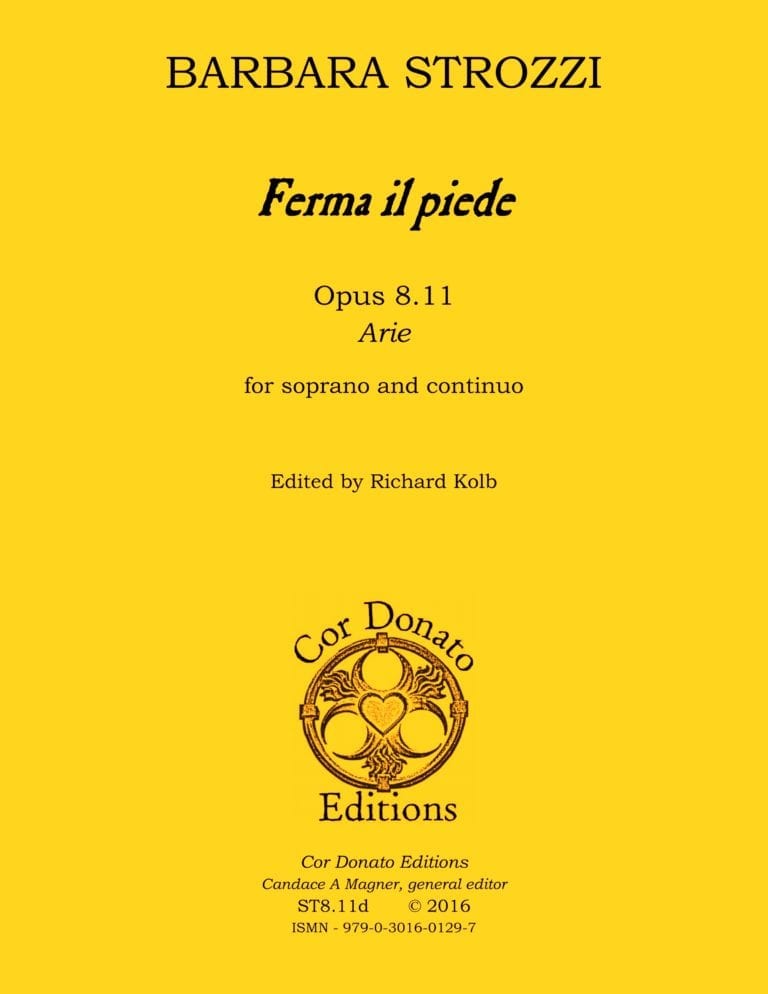 Published by Cor Donato Editions in historically correct modern transcription, including critical introductory notes on the work, editorial procedures, original Italian texts with new English translations, and other contextual information about the piece.
Now available at CorDonatoEditions.com!
Purchase score →