✤ View another piece from this Opus / Collection →
Non c'è più fede
Originally for Soprano and basso continuo.
Original Language:
Italian
Non c'è più fede, no, no.
Come rea di tradimento,
Fu da amor posta al tormento,
E un rival morte gli diede.
Vestitevi a bruno,
Pensieri dolenti,
Di pianti e lamenti
È il tempo opportuno.
Di doglie ciascuno,
Di pene e tormenti
Deh, facciasi herede.
Non c'è più fede...
Constancy is no more
Constancy is no more.
Convicted of treason,
it was consigned to torture by love,
and a rival has put it to death.
Put on mourning,
sad thoughts,
it's a time
for tears and lamenting.
In grief
let all be heir
to afflictions and torments.
Constancy is no more...
Translated by:

Richard Kolb

Find the score...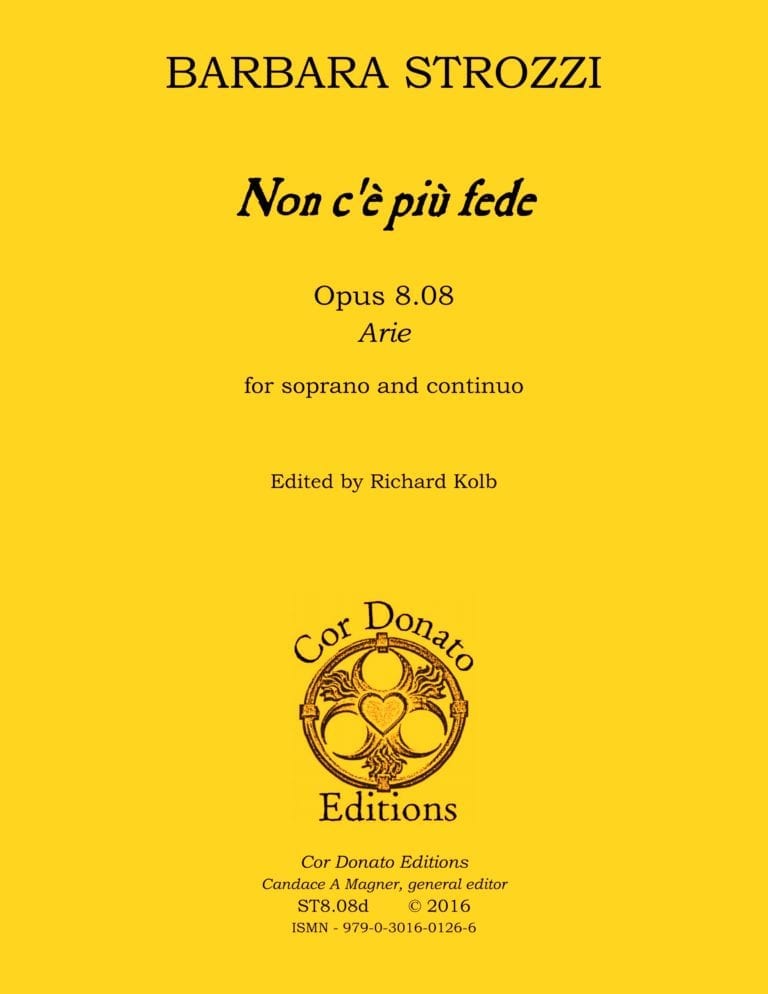 Published by Cor Donato Editions in historically correct modern transcription, including critical introductory notes on the work, editorial procedures, original Italian texts with new English translations, and other contextual information about the piece.
Now available at CorDonatoEditions.com!
Purchase score →
Find recordings...
Oh dear! No recordings exist of this piece. Perhaps you shall be the very first to publish one!