✤ View another piece from this Opus / Collection →
Amor dormiglione
Originally for Soprano and basso continuo.
Original Language:
Italian
Amor, non dormir più!
Su, su, svegliati omai,
che mentre dormi tu
dormon le gioie mie, vegliano i guai.
Non esser, non esser, Amor, dappoco!
Strali, strali, foco,
strali, strali, su, su,
foco, foco, su, su!
O pigro o tardo
tu non hai senso,
Amor melenso
Amor codardo!
Ahi quale io resto
che nel mio ardore
tu dorma Amore:
mancava questo!
Sleepyhead Cupid
Cupid, no more sleeping!
Up, up, wake up right now,
for while you sleep
my joys sleep, troubles are wakeful.
Don't be useless, Cupid!
Arrows, arrows, fire,
arrows, arrows, get up, get up,
fire, fire, get up, get up!
Oh you idle laggard,
you've got no sense!
Foolish Cupid,
cowardly Cupid,
ah, what can I do?
In spite of all my ardor
you slumber:
that's all I need!
Translated by:

Richard Kolb

Find the score...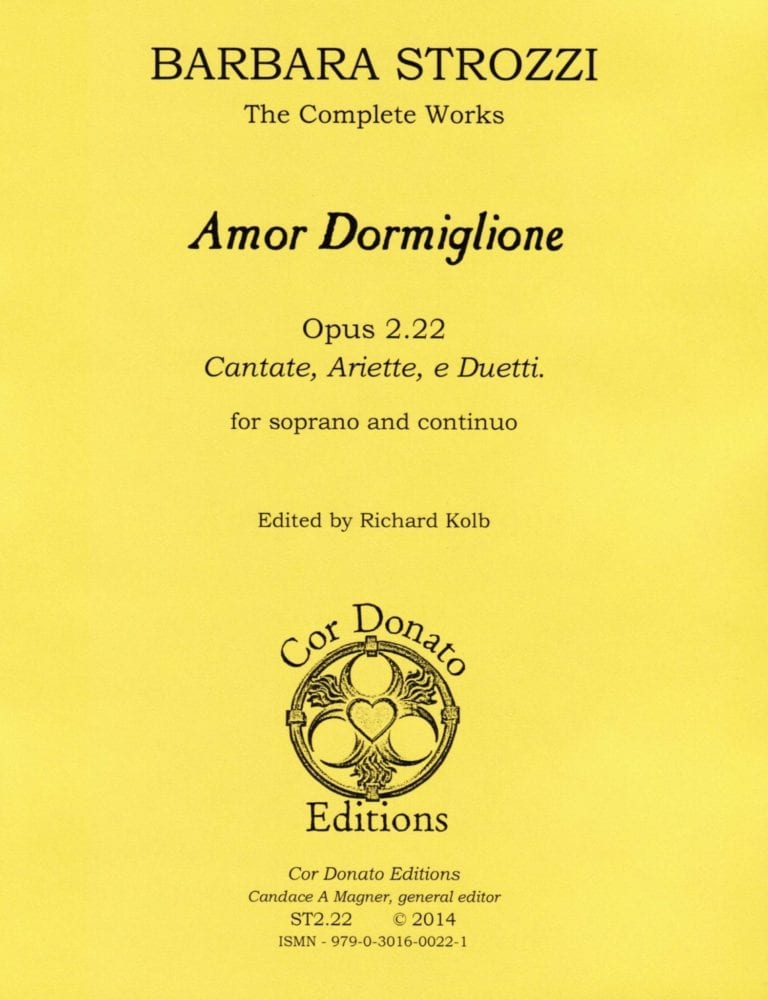 Published by Cor Donato Editions in historically correct modern transcription, including critical introductory notes on the work, editorial procedures, original Italian texts with new English translations, and other contextual information about the piece.
Now available at CorDonatoEditions.com!
Purchase score →