✤ View another piece from this Opus / Collection →
La riamata da chi amava
Duet originally for two Sopranos, basso continuo, and 2 violins.
Original Language:
Italian
Dormi, o mio dolore,
addormentati, o mia pena,
i sospiri ei pianti affrena,
posa in stabil core.
Pace datevi, o speranze,
acquietatevi, o desiri,
dilungatevi, o martiri,
in eterne lontananze.
Ciego duol mi affliggi a torto,
ch'alle gioie Amor mi vuole
e mi rende il mio bel Sole,
la mia vita, il mio conforto.
Alma mia, riedi a godere
che desir con tanto affetto,
corri, o core, al cor diletto,
torna al ben, torna al piacere,
alma mia, torna al godere.
The Former Lover's Revival of Love
Sleep, o my sorrow,
slumber, o my suffering,
hold back sighs and laments,
repose in a quiet heart.
Be at peace, o hopes,
still yourselves, o desires,
exile yourselves, o torments,
into the eternal distance.
Blind regret wrongly vexes me,
since Love wished to delight me
and to give me my beautiful sun,
my life, and my comfort.
My soul, return to enjoy
whom you desire with such affection;
run, o heart, to the cherished bosom,
return to affection, return to pleasure,
my soul, return to delight.
Translated by:

Candace Magner

Find the score...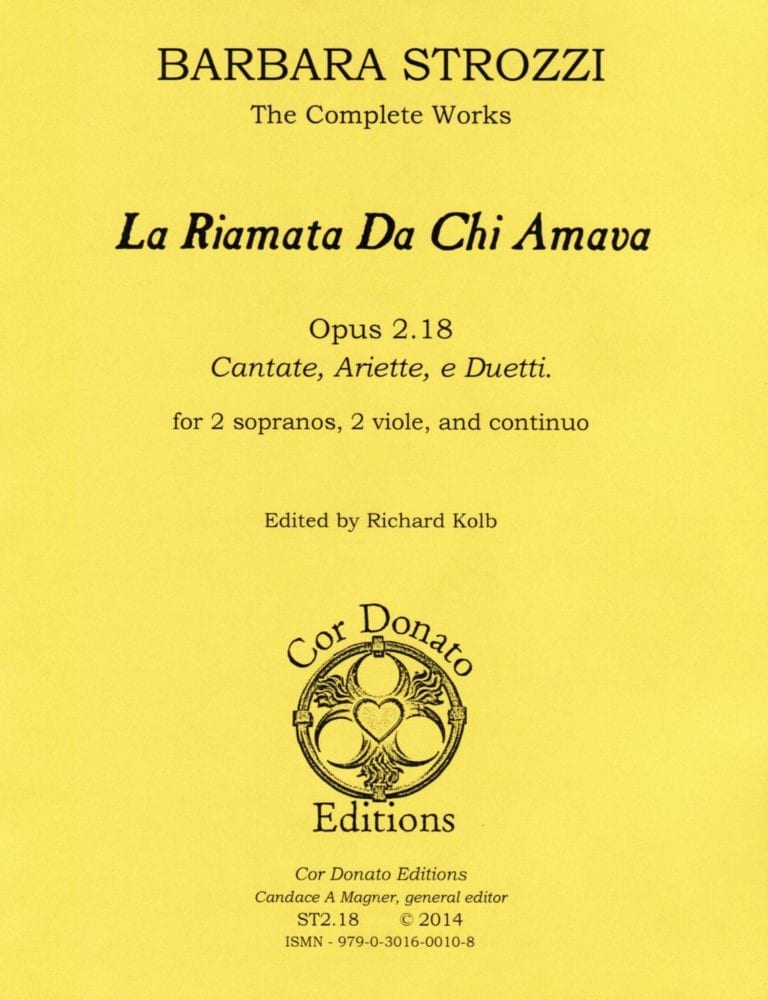 Published by Cor Donato Editions in historically correct modern transcription, including critical introductory notes on the work, editorial procedures, original Italian texts with new English translations, and other contextual information about the piece.
Now available at CorDonatoEditions.com!
Purchase score →