✤ View another piece from this Opus / Collection →
Chiamata a nuovi amori
Originally for Soprano and basso continuo.
Original Language:
Italian
E che diavol sarà questo,
sempre amar dunque dovrò?
Or che sciolta appena resto
nove laccio il pie' legò,
Non mi val dire:
"D'amor son libera,
vecchio desire
più non mi lacera."
Che se per Lidio non sento ardor,
altra bellezza ritogliemi il cor.
Che malanno ha meco Amore,
che si crede alfin di far?
S'un mi strusse amando il core
a che serve un altro amar?
Ma il cattivello
perch'io non fuggami
vuol ch'un più bello
il sen distruggami.
S'un viso amabile mi fe' languir,
per due begl'occhi mi sento morir.
The Call of New Loves
So what in the devil is going on,
do I always have to be in love?
Just as soon as I'm released,
a new snare entraps me.
It does me no good to say:
"I'm free of love,
old desires
will afflict me no more."
If I don't feel anything more for Lidio,
another charmer steals my heart all over again.
What does cupid have against me,
what does he think he's doing?
If loving destroys my heart,
what good is another love?
But that vicious little boy,
since I don't run away,
sets someone more handsome
to confuse me.
An agreeable face makes me languish,
and for two beautiful eyes I think I'm dying.
Translated by:

Richard Kolb

Find the score...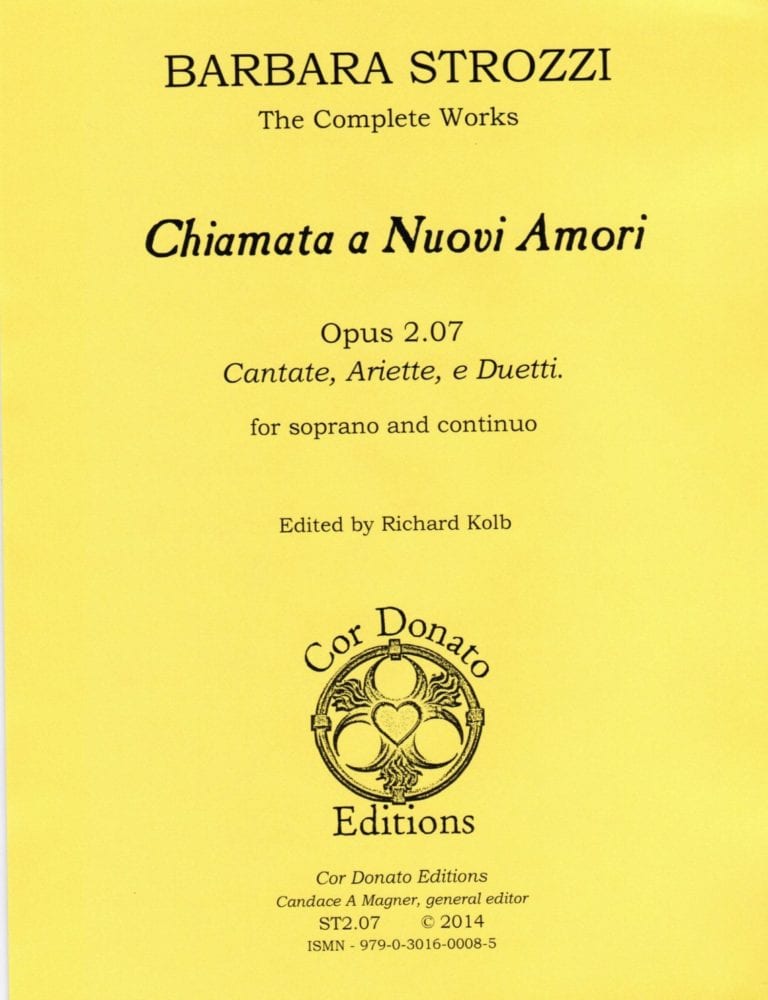 Published by Cor Donato Editions in historically correct modern transcription, including critical introductory notes on the work, editorial procedures, original Italian texts with new English translations, and other contextual information about the piece.
Now available at CorDonatoEditions.com!
Purchase score →