✤ View another piece from this Opus / Collection →
B.D. che batte il focile
Originally for Soprano and basso continuo.
* B[ella] D[onna] che batte il focile
Original Language:
Italian
Respira mio core,
Rallegrati, o lasso,
Mia Lilla in un sasso
Tutto, tutto ha versato il suo rigore.
Quasi d'haverle usate hora si penta,
Le durezze tormenta,
E perch' ogn'un da lei pietade impetre,
Cerca fiamme d'amor fin dalle pietre.
Gioite, pensieri,
Ravivati, o spene,
Pentito il mio bene
Vibra contro di sé colpi si fieri.
Ecco ha in man il suo cor di core alpina,
Di tempra adamantina,
E vuol ch'ei sia per l'amoroso gioco
Che già tutto fu giel, hor tutto foco.
Speranze, tornate,
Svegliatevi, affetti!
Concenti e diletti
Dalle battute sue lieti sperate.
Gitta in pezzi il suo cor empio, inhumano,
Lilla col ferro in mano,
E acciò sue tenerezze a ognun sian note,
I più duri macigni odia e percuote.
Costanza gradita,
Miei giorni tranquilla,
Cortese mia Lilla
Leva i sassi e gl'inciampi alla mia vita.
Perché accesa di te mio cor l'intendi,
Suscita mille incendi,
E per esserti alfin più sviscerata,
Delle viscere altrui mostrasi armata.
Beautiful Lady Who Sparks the Tinder
Breathe, my heart,
rejoice, indeed,
my Lilla has poured all of her sternness
into a stone.
As though repenting for having used
such harshness, she spurns hardness,
and so that everyone will entreat her mercy
she seeks flames of love even in stones.
Be joyful, thoughts,
revive, oh hopes,
my repentant love
strikes herself with harsh blows.
See how she has in hand her arrogant heart
of diamond-like hardness,
and wants what used to be ice now
for the game of love to be all fire.
Return hopes,
wake up, passions!
You can joyfully hope for harmony and delights
from the beating of her heart.
With iron in hand she breaks into pieces
her proud, inhuman heart,
and so that everyone will notice her tenderness
she despises and strikes the hardest stones.
With gratifying constancy
she soothes my days;
my gentle Lilla
removes the stones and obstacles from my life.
So that you will understand, my heart,
she lights a thousand fires,
and to be more passionate towards you,
she arms herself with the passions of others.
Find the score...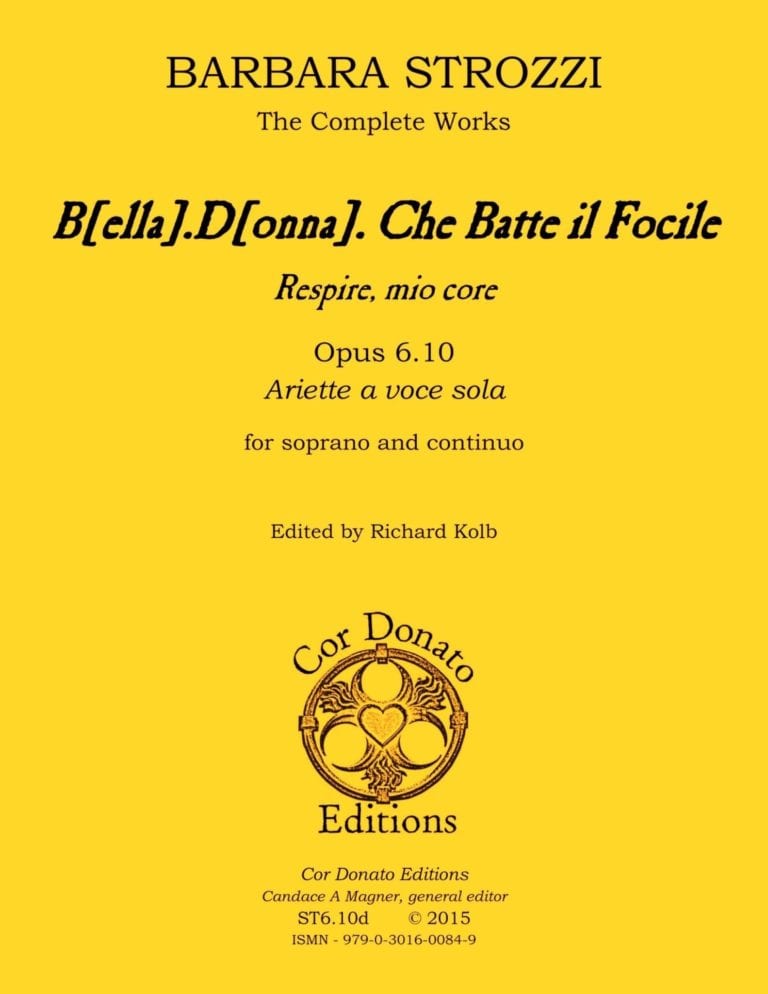 Published by Cor Donato Editions in historically correct modern transcription, including critical introductory notes on the work, editorial procedures, original Italian texts with new English translations, and other contextual information about the piece.
Now available at CorDonatoEditions.com!
Purchase score →