✤ View another piece from this Opus / Collection →
Instabilità di Filli
Originally for Soprano and basso continuo.
Original Language:
Italian
Filli mia che mi ferì,
Io non so che pensier ha:
Mai non seguita due dì
Ad amarmi come fa.
Un giorno è tutta mia,
Ch'ancor mi donaria
Se foss'in suo poter tutto il Perù,
Poi l'altro dì non mi conosce più.
Ha nel cervello
Un mulinello
Che sempre gira;
S'ell'è pietosa un dì, l'altro s'adira.
Non mai ferma in un tenor,
Suol mancar spesso di fé,
E se un giorno è tutta amor,
Tutta sdegno poi l'altr'è.
Con strana bizarria
Par che l'astrologia
Ne goda essercitar la sua beltà,
Così per luna il suo cervel ne và.
È la mia bella
Per me una stella
Mai sempre errante;
E s'è stabil un dì, l'altro è incostante.
Instability of Phyllis
My Phyllis, who has wounded me,
I don't know what she's thinking:
she never loves me the same
two days in a row.
One day she's all mine,
and would even give me,
if it were in her power, all of Peru;
then the next day she doesn't know me any more.
She has in her brain
a little windmill
that keeps turning,
If she's nice one day, the next she's quarrelsome.
Her mood is never settled,
she often lacks faithfulness,
and if one day she's all love,
the next she's all disdain.
With such strange bizarrness
it seems as though the stars and planets
take pleasure in affecting her beauty,
since her mind is so much in the moon.
My beautiful one is
a star to me,
but always wandering,
and if she's stable one day, the next she's fickle.
Find the score...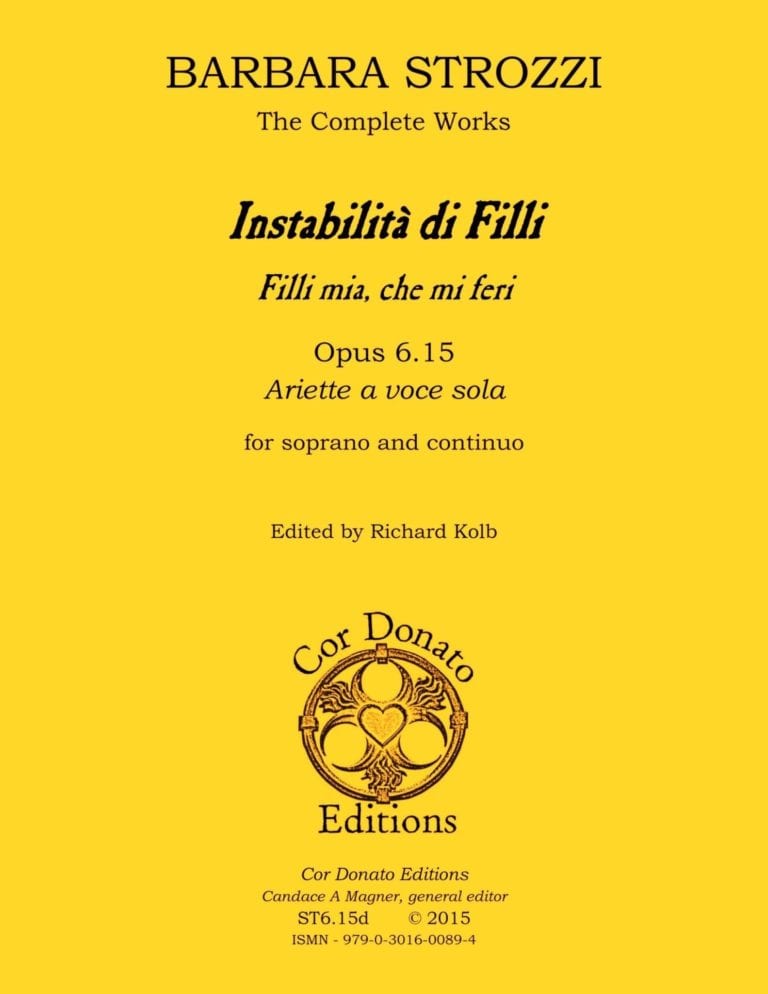 Published by Cor Donato Editions in historically correct modern transcription, including critical introductory notes on the work, editorial procedures, original Italian texts with new English translations, and other contextual information about the piece.
Now available at CorDonatoEditions.com!
Purchase score →