✤ View another piece from this Opus / Collection →
Duetto. Soprano, e mezzo Soprano
Duet originally for Soprano, Mezzo-Soprano and basso continuo.
Original Language:
Italian
Sospira,
Respira,
Amato,
Sprezzato,
Mio core,
Traditore,
Chi t'ingannò?
Chi ti fidò?
No, no, pene non più!
È sprezzata d'amor la servitù.
Chi mi tiene?
Catene,
desiri,
sospiri,
contenti,
tormenti.
Chi m'inganna?
Una tiranna.
Duet. Soprano and Mezzo-Soprano
Sigh,
breathe,
loved,
disdained,
my heart,
traitor,
who deceived you?
Who believed in you?
No, no, no more pains!
Love disdains servitude.
Who detains me?
Chains,
desires,
sighs,
contentments,
torments.
Who deceives me?
A tyrant.
Find the score...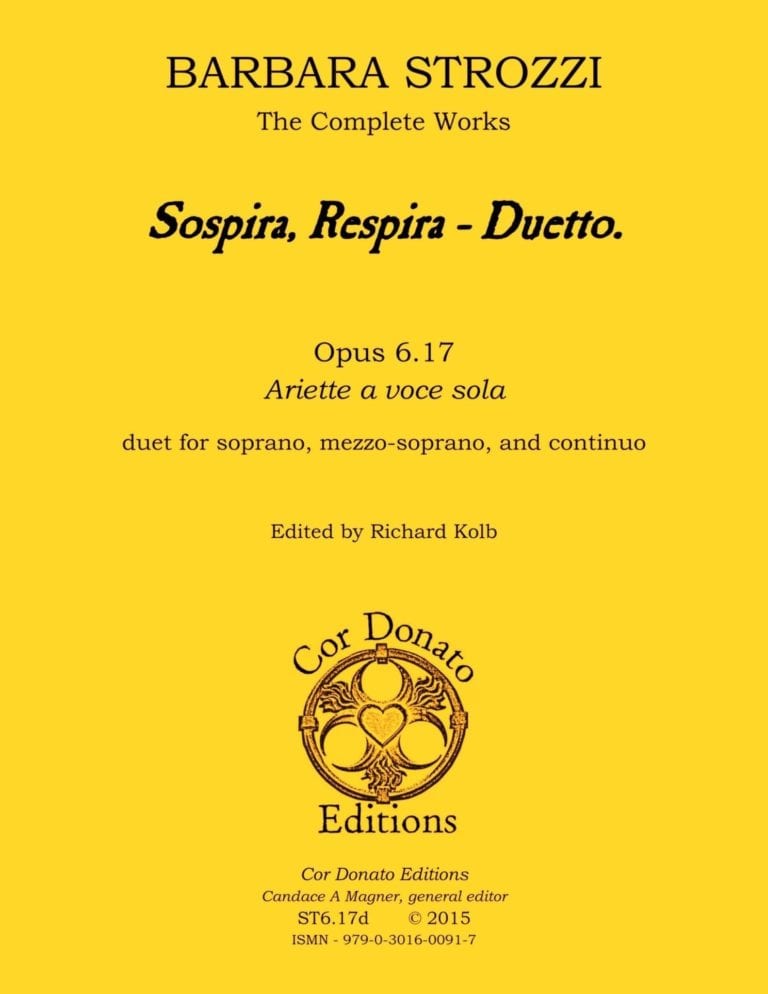 Published by Cor Donato Editions in historically correct modern transcription, including critical introductory notes on the work, editorial procedures, original Italian texts with new English translations, and other contextual information about the piece.
Now available at CorDonatoEditions.com!
Purchase score →