✤ View another piece from this Opus / Collection →
Con le belle non ci vuol fretta
Quartet originally for Soprano, Alto, Tenor, and Bass with basso continuo.
Original Language:
Italian
Mi tien Filli fin qui,
Né ben detto di no,
Né ben detto di sì.
Amore, e che farò, aspetto o lascio?
Amor non mi risponde,
Ma mi dice la speme: "Aspetta, aspetta,
Con le belle a goder non ci vuol fretta;
Viene il bene tal'hor, né si sa donde.
Non sai tu che consola
L'amante di molt'anni un'hora sola?"
With Beautiful Women You Can't Be in a Hurry
Phyllis has kept me going this far,
not clearly saying no,
not clearly saying yes.
Love, what shall I do, should I wait or let go?
Love doesn't answer,
but hope says "Wait, wait, to be happy
with beautiful women you can't be in a hurry;
delight comes sometimes, you can't tell how.
Don't you know that just one hour
consoles a lover for many years of suffering?"
Translated by:

Richard Kolb

Find the score...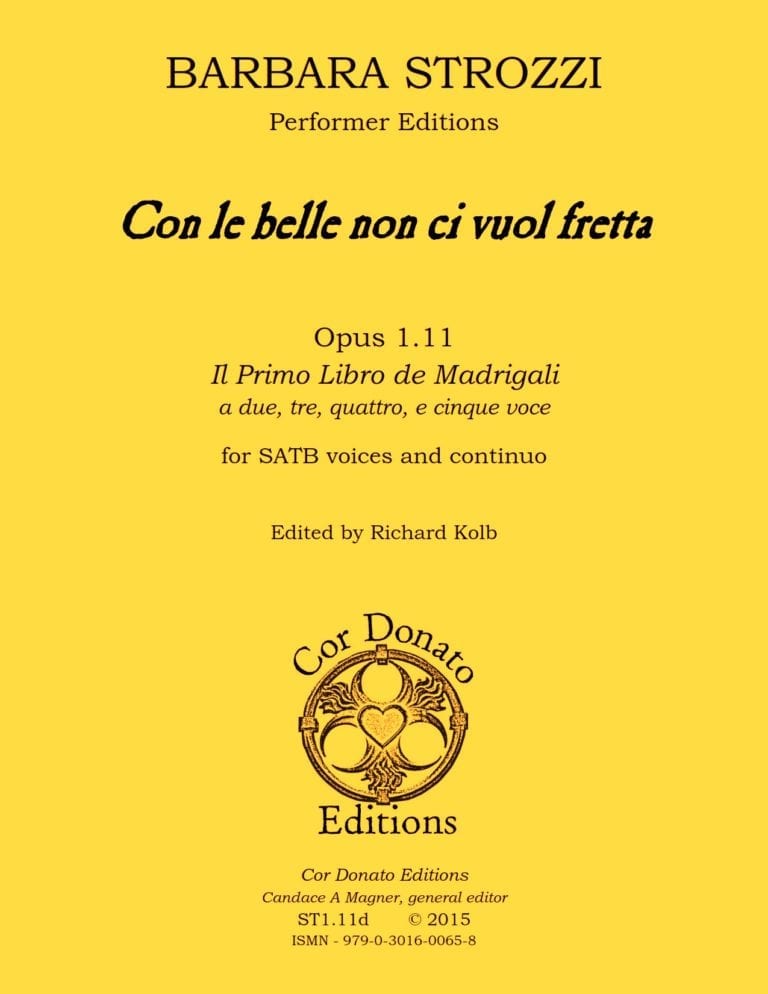 Published by Cor Donato Editions in historically correct modern transcription, including critical introductory notes on the work, editorial procedures, original Italian texts with new English translations, and other contextual information about the piece.
Now available at CorDonatoEditions.com!
Purchase score →