✤ View another piece from this Opus / Collection →
Silentio nocivo
Quartet originally for Soprano, Alto, Tenor, and Bass with basso continuo.
Original Language:
Italian
Dolcissimi respiri
De' nostri cori amanti
Son le parole affettuose e i canti.
Sfoga, o mio core, il tuo cocente ardore,
Se tal'hor non ti tocca
Nodrirti almen di due soavi baci.
Afflittissima bocca,
Stolta sei se tu taci:
Parla, canta, respira, esala il duolo,
Canta, canta, che solo
Dolcissimi respiri...
Harmful silence
Sweetest breaths
are the passionate words and songs
of our loving hearts.
Express, oh my heart, your burning desire,
when at times you cannot
at least nourish yourself with two sweet kisses.
Afflicted mouth,
you're foolish if you remain silent:
Speak, sing, divulge your suffering,
sing, sing, for only
Sweetest breaths...
Translated by:

Richard Kolb

Find the score...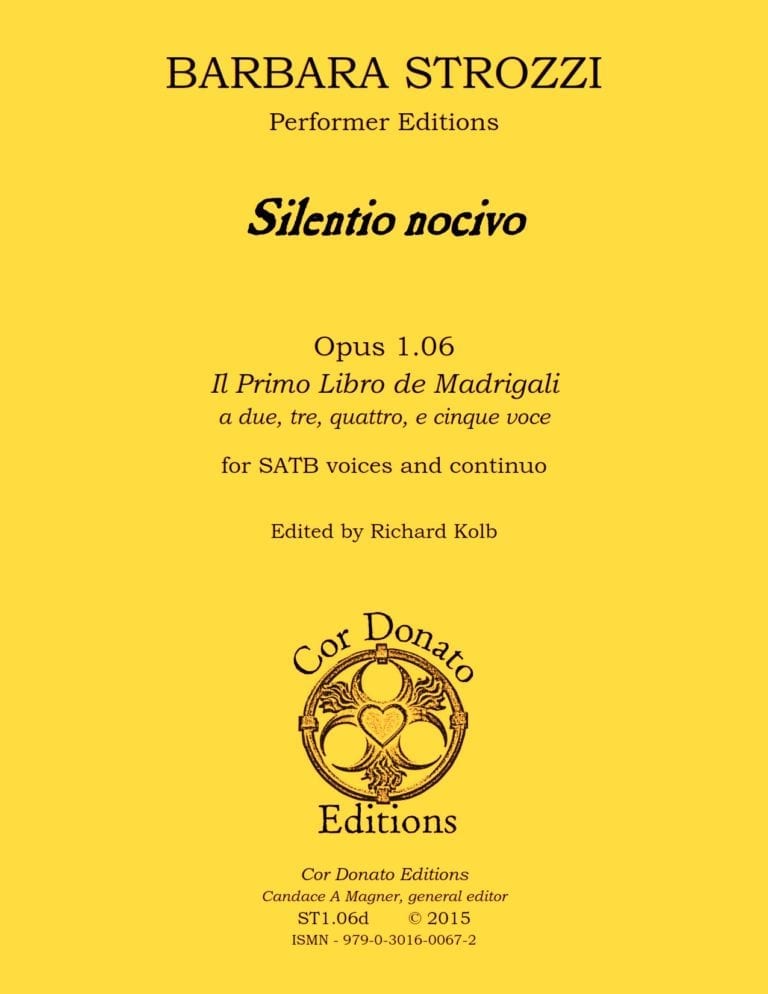 Published by Cor Donato Editions in historically correct modern transcription, including critical introductory notes on the work, editorial procedures, original Italian texts with new English translations, and other contextual information about the piece.
Now available at CorDonatoEditions.com!
Purchase score →