✤ View another piece from this Opus / Collection →
Pace arrabbiata
Trio originally for Alto, Tenor, and Bass with basso continuo.
Original Language:
Italian
Come può, non come suol,
Quell'altero
Chiede pace, pace vuol.
Grida il fiero:
"Ad Amor e non a te
Curvo il collo e bacio il piè."
Replicò Fillide all'or:
"Servi me, che servi Amor.
Tu non conosci, o stolto,
Che vicario d'Amor fatto è il mio/suo volto?"
Come può, non come suol...
Privilegio ha la beltà:
Guerra e pace
Bella donna e rompe e fa.
Ecco tace
Quell'ardente, e che può dir
Se non fingere è soffrir?
Quell'altier che la sprezzò
Fintamente l'inchinò.
Si vede ben ch'allora
Quel che bestemmia il cor la lingua adora.
Privilegio ha la beltà...
Peace in Anger
However he can, not as he wants,
this haughty man
pleads for peace, wants peace.
The proud man cries:
"I bow down and kiss the foot
of Love, not yours."
Phyllis then answers:
"Serve me, for I serve Love.
Don't you know, stupid,
That my (her) face is the deputy of Love?"
Beauty has privilege:
A beautiful woman
both makes and breaks war and peace.
Behold, the ardent one falls silent,
and what can he say
about suffering that is not feigned?
The haughty man who disparaged her
bows to her insincerely.
It can then well be seen
that what the heart reviles the tongue adores.
Beauty has privilege...
Translated by:

Richard Kolb

Find the score...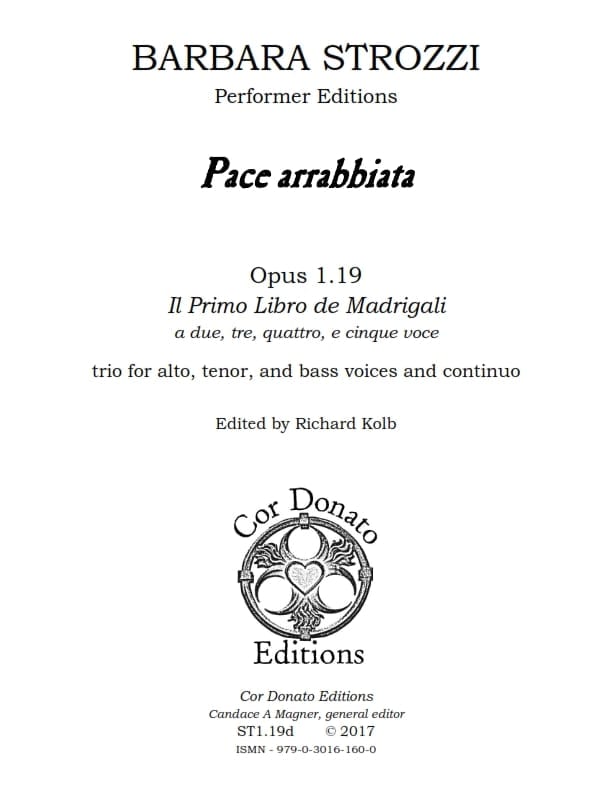 Published by Cor Donato Editions in historically correct modern transcription, including critical introductory notes on the work, editorial procedures, original Italian texts with new English translations, and other contextual information about the piece.
Now available at CorDonatoEditions.com!
Purchase score →