✤ View another piece from this Opus / Collection →
Le Tre Grazie a Venere
Trio originally for three Sopranos and basso continuo.
Original Language:
Italian
Bella madre d'Amore,
Anco non ti ramembra
Che nuda havesti di bellezze il grido
In sul Troiano lido
Dal giudice Pastore?
Onde se nuda piaci
In sin a gl'occhi de' bifolchi Idei,
Vanarella che sei,
Perché vuoi tu con tanti adobbi e tanti
Ricoprirti a gl'amanti?
O vesti le tue Gratie e i nudi Amori,
O getta ancor tu fuori
Gl'arnesi, i mantie i veli:
Di quelle care membra
Nulla, nulla si celi.
Tu ridi e non rispondi?
Ah, tu le copri, sì, tu le nascondi,
Che sai ch'invoglia più, che più s'apprezza
La negata bellezza.
The Three Graces to Venus
Beautiful mother of love,
have you forgotten that you were nude
when you carried away the prize for beauty
on the Trojan shore,
in the shepherd's judgement?*
So if nude you pleased
the eyes of the herdsmen of Mount Ida,
vain that you are,
why do you conceal yourself from lovers
with so many ornaments?
Either clothe your graces** and the naked cupids,
or you too cast away
the attires, robes and veils:
Let nothing be hidden
of those dear limbs.
You laugh and don't answer?
Ah, you cover them, you conceal them,
for you know that more enticing,
more valued is beauty that is witheld.
Translated by:

Richard Kolb

* Reference to the Judgement of Paris, perhaps derived from the version in Ovid's Heroides 16.51 ff. Paris was brought up as a shepherd on Mount Ida...
** In Greek and Roman mythology the three graces, or charities, frequently attended Venus.
Find the score...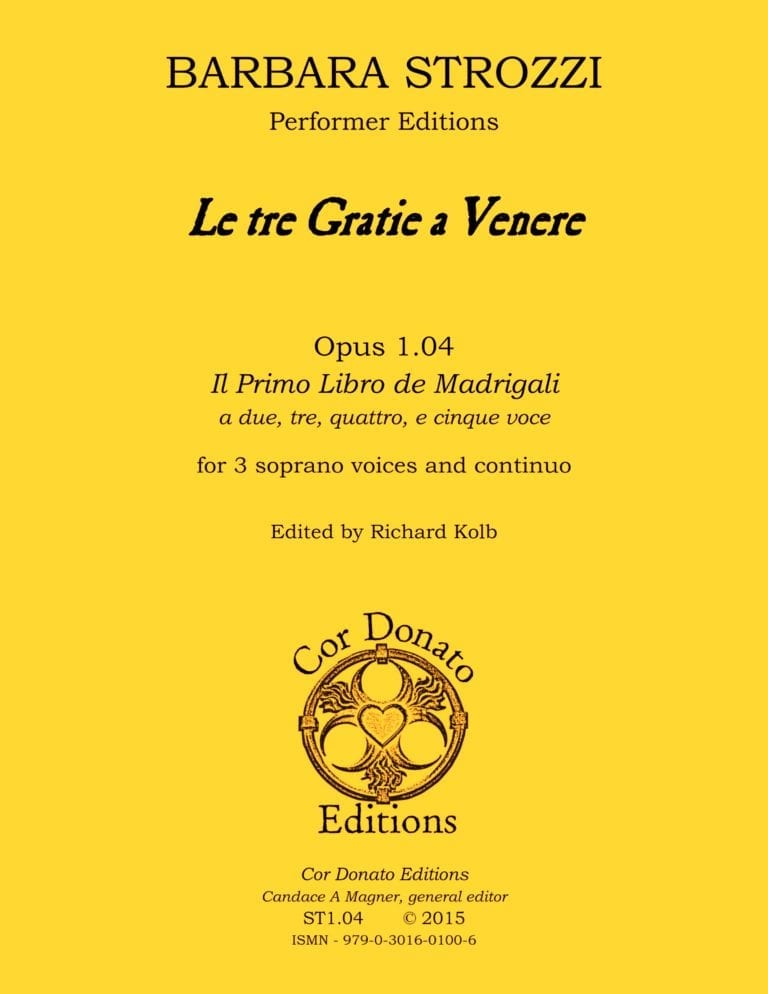 Published by Cor Donato Editions in historically correct modern transcription, including critical introductory notes on the work, editorial procedures, original Italian texts with new English translations, and other contextual information about the piece.
Now available at CorDonatoEditions.com!
Purchase score →