✤ View another piece from this Opus / Collection →
Dialogo in partenza
Duet originally for Soprano and Alto, with basso continuo.
Original Language:
Italian
SOPRANO:
Anima del mio core,
Tu parti?
ALTO:
Io parto.
SOPRANO:
E prenderatti, o Dio,
Dimmi, un picciolo oblio
Giamai del nostro amore?
ALTO:
Fonte della mia vita,
Tu resti
SOPRANO:
Io resto.
ALTO:
E dubitar potrai,
In si dura partita,
Della mia fede mai?
SOPRANO:
No, no, la nostra gelosia si spenga.
ALTO:
Sì, sì, rasciuga quei begli occhi mesti.
SOPRANO: & ALTO:
E dove andar (restar) potrò che tu
non venga (resti),
S'hanno la stanza usata
I nostri cuor cangiata?
ALTO:
Mentre parto, o mio bene,
Il mio qui resta.
SOPRANO:
E 'l mio teco sen viene.
Mentre resto, o mia speme,
Il tuo qui resta.
ALTO:
E 'l tuo meco sen viene.
Dialog at Departure
SOPRANO:
Soul of my heart,
you're leaving?
ALTO:
I'm leaving.
SOPRANO:
And will you take with you, oh God,
tell me, a small remembrance
forever of our love?
ALTO:
Source of my life,
you remain?
SOPRANO:
I remain.
ALTO:
And will you ever doubt,
in such harsh separation,
of my constancy?
SOPRANO:
No, no, let our jealousy be subdued.
ALTO:
Yes, yes, dry those beautiful sad eyes.
SOPRANO & ALTO:
And where could I go (remain) that
you would not be with me,
since we have
exchanged our hearts forever?
ALTO:
Although I leave, oh my love,
my heart remains here.
SOPRANO:
And mine goes with you.
Although I remain, oh my trust,
yours remains here.
ALTO:
And yours comes with me.
Translated by:

Richard Kolb

Find the score...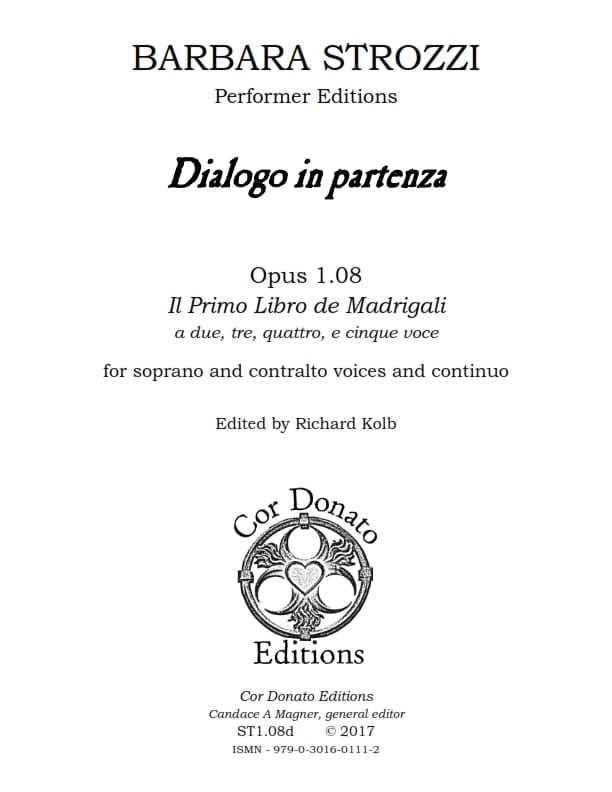 Published by Cor Donato Editions in historically correct modern transcription, including critical introductory notes on the work, editorial procedures, original Italian texts with new English translations, and other contextual information about the piece.
Now available at CorDonatoEditions.com!
Purchase score →