✤ View another piece from this Opus / Collection →
Il contrasto de' cinque sensi
Quintet originally for two Sopranos, Alto, Tenor, and Bass with basso continuo.
Original Language:
Italian
Chi di noi vaglia più,
E di gioia maggior ministro sia,
Fiera lite ognor fu.
Io miro, io sento, io gusto, io fiuto, io tocco,
E nella donna mia
Tal'hor, anco mercé d'un picciol bacio,
Tutto trabocco.
Tocca pur quanto sai,
Che nel sol tocco Amore
Il verace gioir non pose mai.
Ne sia giudice il cor mesto e languente;
"Ohimè" senti ch'il cor dentro ci dice,
Ch'un sol bacio, ch'è niente, il fa felice.
The Quarrel of the Five Senses
Who among us is most worthy,
and is the greatest source of joy,
has always been a fierce argument.
I see; I hear; I taste; I smell; I touch;
and in my lady sometimes,
thanks to just one little kiss,
everything in me overflows.
Touch, then, all you want,
for with touch alone Love
never attains true delight.
May the sad and languishing heart be the judge;
let the heart within say "alas," and then just one kiss, which counts for nothing, makes one happy.
Translated by:

Richard Kolb

Find the score...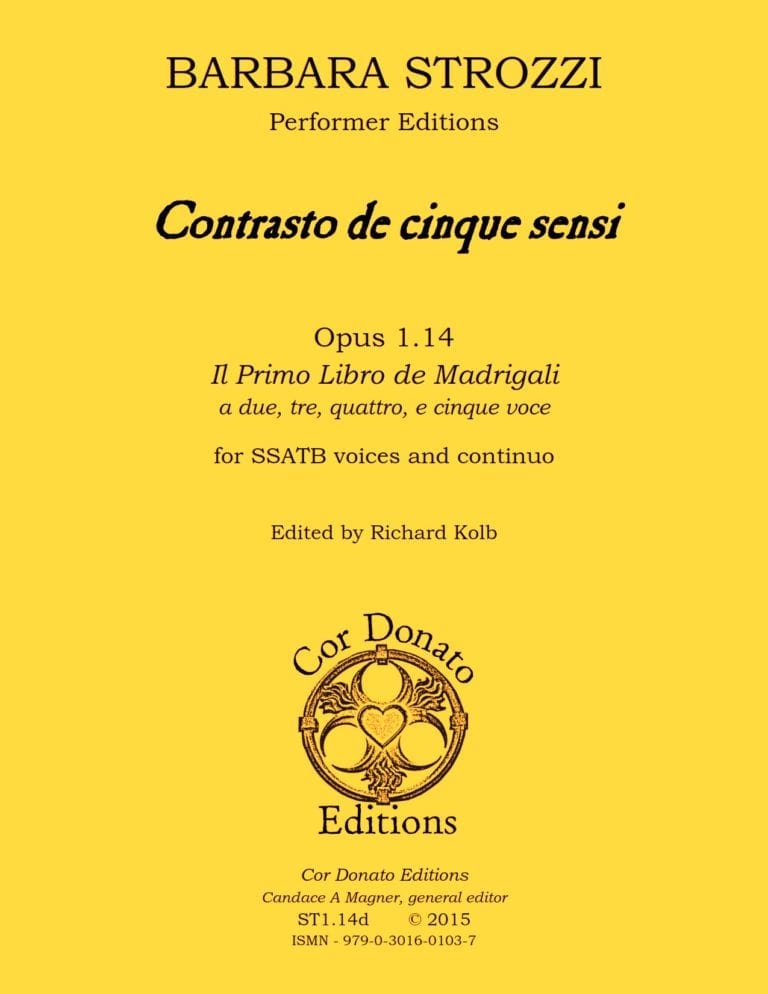 Published by Cor Donato Editions in historically correct modern transcription, including critical introductory notes on the work, editorial procedures, original Italian texts with new English translations, and other contextual information about the piece.
Now available at CorDonatoEditions.com!
Purchase score →