✤ View another piece from this Opus / Collection →
La vittoria
Duet originally for two Sopranos and basso continuo.
Original Language:
Italian
Il gran Giove non si gloria
D'altre belle esser amante;
Gode solo il dio costante
Quando in seno è di Vittoria.
La Vittoria d'un bel Rovere
Al suo Giove adorna il crine,
Nel cui verde in aure e brine
Già la Gloria venne a piovere.
Nacque già nobil primitia,
Già gli rese il ciel fecondi;
Ma d'Etruria anco i sei mondi
D'alti Eroi voglion dovitia.
Victory (Vittoria)*
Great Jupiter glories in being
the lover of no other beauty
the steadfast god is content only
in the affections of Victory.
Victory of a beautiful Rovere (oak laurel)
adorns the hair of her Jupiter,
from which glory rains down
in green and golden frost.
Now the noble heir is born,**
already heaven has made her fertile;
but from Tuscany the six worlds
of great heroes will yet give riches.
Translated by:

Richard Kolb

* i.e. Vittoria della Rovere
** Cosimo III was born August 14, 1642.
Find the score...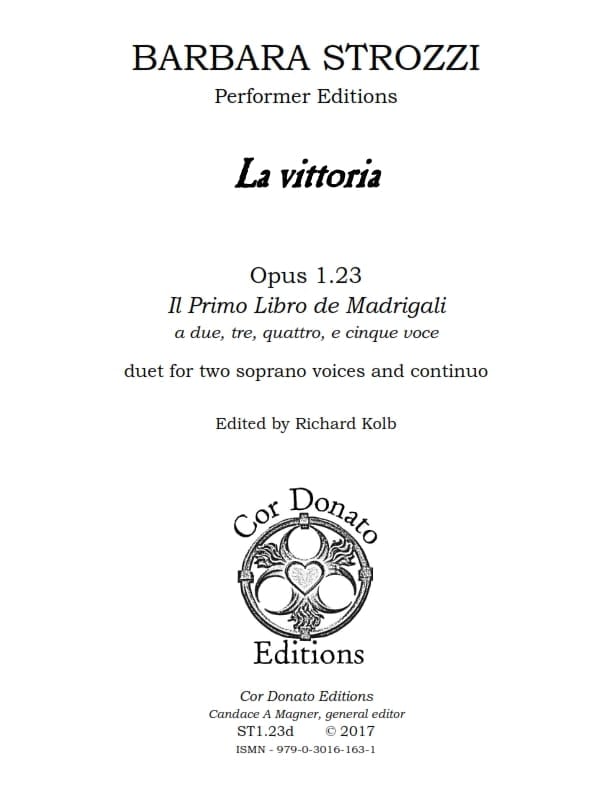 Published by Cor Donato Editions in historically correct modern transcription, including critical introductory notes on the work, editorial procedures, original Italian texts with new English translations, and other contextual information about the piece.
Now available at CorDonatoEditions.com!
Purchase score →