✤ View another piece from this Opus / Collection →
Erat Petrus
Originally for Soprano and basso continuo.
Erat Petrus dormiens
inter milites cintus catenis
et ante ostium custodes.
Ecce lumen refulsit in habitaculum
astitit Angelus percussit Petrus et eccitavit:
"Surge, surge velociter,
solve catenas, precinge te,
calcea te, circunda tibi vestimentum,
sequere me."
Pulsante eo ostium Ioannis,
venit puella et pregaudio
intro currens non peruit.
Pulsabat Petrus, perseverabat pulsans. Respondebant puellæ
"insanis, in carcere est Petrus."
Pulsabat Petrus.
Narrabat puella stare Petrum ante ianuam.
Pulsabat Petrus.
Dicebant illi "Angelus eius est."
Pulsabat Petrus, perseverabat pulsans.
Aperuerunt, viderunt, obstupuerunt.
Annuens autem Petrus manu ut tacerent,
nunciavit quod Dominus abduxit eum.
O Petre, protector in te sperantium Petre.
Te Petre, poscimus ut culpas abluas,
noxia diluas.
Ecce miserum,
peccatis de victam de tua liberatione confisam.
Te Petre poscimus
ut culpas abluas, da pacem famulis,
da nobis gloriam per cuncta sæcula.
Alleluia.
Peter was sleeping
Peter was sleeping,
bound in chains, among the soldiers
who were before the door.
See, a light shone into the hut;
an Angel at his side shook and summoned Peter:
"Arise, arise quickly,
break the chains, gird yourself,
put on your shoes and cloak,
and follow me."
When he knocked at John's door,
a girl within came running with joy,
but she did not open.
Peter continued to knock.
They said to the girl,
"you are insane, Peter is in prison."
Peter kept knocking.
But the girl said that Peter was standing before the door.
Peter kept knocking.
They said "It is an angel."
Peter kept knocking.
They opened the door, they saw, and were astonished.
Peter signed with his hand for them to be quiet,
and reported that the Lord had delivered him.
O Peter, protector of those who have hope in you, Peter.
We implore you, Peter, to wash away our faults,
to cleanse our guilt.
Behold one, wretched,
overcome with sins, trusting in your liberation.
We implore you, Peter
to wash clean our faults, grant peace to your servants,
give us glory in eternity.
Alleluia
Translated by:

David Larrick with revisions by Richard Kolb

Translations by Owen Daly and Dr. David Larrick have been specially commissioned by BarbaraStrozzi.com. Please credit this site and the translators if you choose to use these texts.
Find the score...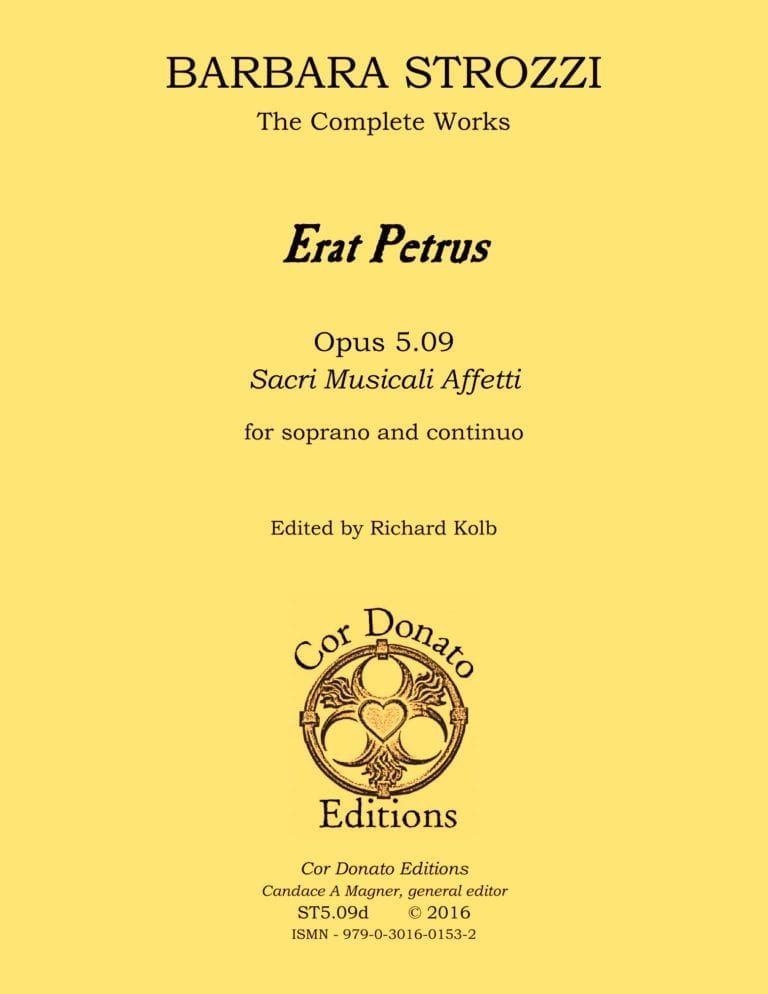 Published by Cor Donato Editions in historically correct modern transcription, including critical introductory notes on the work, editorial procedures, original Italian texts with new English translations, and other contextual information about the piece.
Now available at CorDonatoEditions.com!
Purchase score →