✤ View another piece from this Opus / Collection →
Erumpebat
Originally for Alto and basso continuo.
Erumpebat undique fama
sanctitatis Beatissimi Patris nostri Benedicti,
et augebatur Benedictus in die maiori gratia ventura predicendo.
Unde Rex Gothicus Totila,
ut eludat propheti cum
Sancti Benedicti Spiritum suum,
illi spatharium indutum mittit purpura.
A multis servus sociis
dum comitatus simulat se
Regem esse Totila.
Hoc Benedictus intuens
statim dicit spathario:
"Depone fili quod geris,
depone purpuram,
depone coronam, sceptrum,
depone ornamentum enim illud
regium tuum non est, depone."
Oh turpis, oh demens astutia
quem vel per iocum fallere
sanctorum oculos non potest.
Verum dum prestat Totila
Sancto Benedicto maximum
genuflexus obsequium.
Regi Idolatre plurima,
Benedictus prenuntiat.
Oh pulcra, oh felix devotio
que impetrare gratias
a sanctis vocibus non dubitat.
From every side
From every side burst forth the renown
of the holiness of our blessed father Benedict,,
and Benedict continued day by day to be extolled
by proclaiming the grace that was to come.
Thus, the Gothic king Totila,
in order to mock the divine
prophetic power of Saint Benedict,
sends his attendant to him dressed in high rank.
The servant, accompanied
by many companions,
pretends that he is King Totila.
Benedict, seeing this,
immediately says to the attendant:
"O son, put off what you are wearing,
put aside your purple garb,
put aside the crown, the scepter,
put off the adornment, for that
regal splendor is not yours, take it off."
O deceitful, O mindless cunning
that even in jest cannot deceive
the eyes of holy men.
When the truth was manifest
Totila bowed to Saint Benedict
with utmost submission of genuflection.
Benedict foretold many things
to the idolatrous king.
O beautiful, O happy devotion
that hesitates not to obtain grace
through the words of the saints.
Translated by:

David Larrick with revisions by Richard Kolb

Translations by Owen Daly and Dr. David Larrick have been specially commissioned by BarbaraStrozzi.com. Please credit this site and the translators if you choose to use these texts.
Find the score...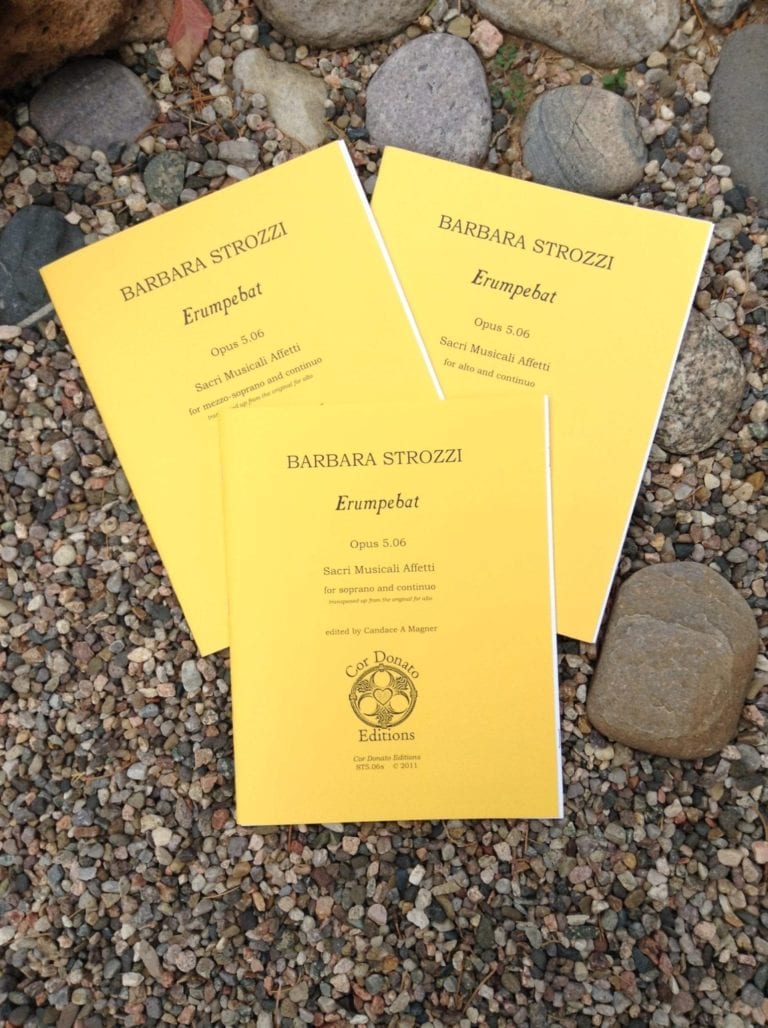 Published by Cor Donato Editions in historically correct modern transcription, including critical introductory notes on the work, editorial procedures, original Italian texts with new English translations, and other contextual information about the piece.
Now available at CorDonatoEditions.com!
Purchase score →