✤ View another piece from this Opus / Collection →
Salve Regina
Originally for Soprano and basso continuo.
Salve Regina, Mater misericordie.
Salve vita dulcedo et spes nostra.
Regina ad te clamamus,
exules filii Evæ.
Regina ad te suspiramus
gementes et flentes
in hac lacrimarum valle.
Eia ergo advocata nostra
illos tuos misericordes oculos ad nos converte,
et Iesum benedictum fructum ventris tui
nobis post hoc exilium ostende,
o Clemens, o pia,
o dulcis Virgo Maria.
Hail, holy Queen
Hail Queen, Mother of mercy.
Hail our life, our sweetness, and our hope.
Queen, to you we cry,
poor banished children of Eve.
Queen, to you we send up our sighs,
mourning and weeping
in this valley of tears.
Turn then, most gracious advocate,
your merciful eyes on us,
And after this our exile show unto us the
blessed fruit of thy womb, Jesus,
O clement, O loving,
O sweet Virgin Mary.
Translated by:

David Larrick with revisions by Richard Kolb

Find the score...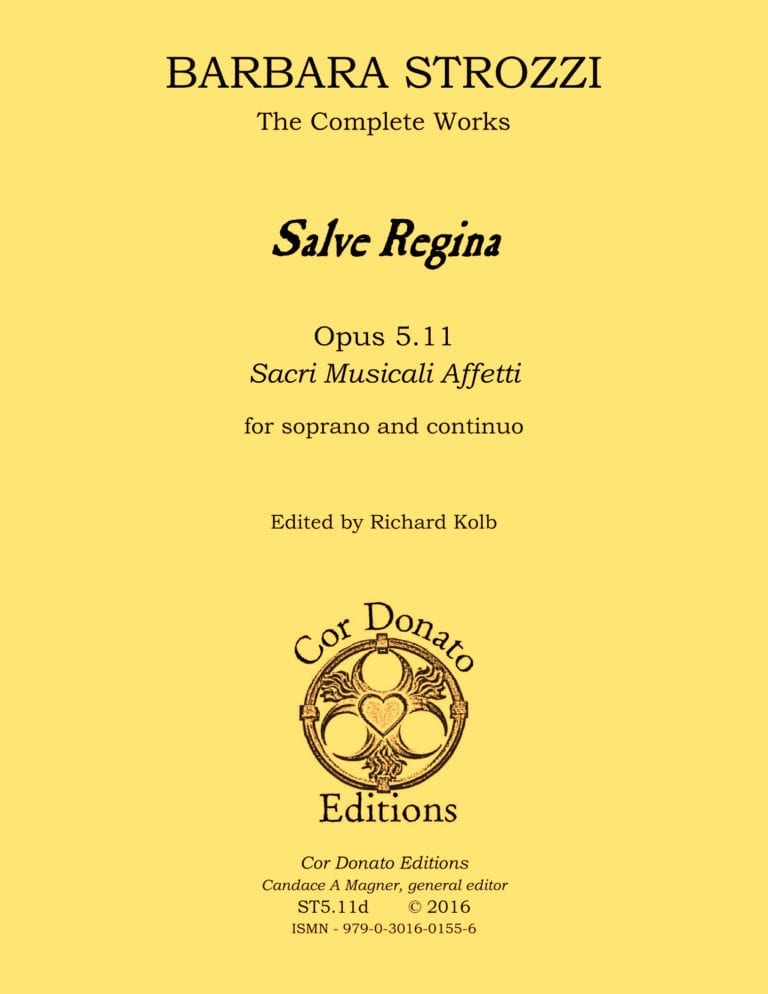 Published by Cor Donato Editions in historically correct modern transcription, including critical introductory notes on the work, editorial procedures, original Italian texts with new English translations, and other contextual information about the piece.
Now available at CorDonatoEditions.com!
Purchase score →