✤ View another piece from this Opus / Collection →
O Maria
Originally for Soprano and basso continuo.
O Maria, quam pulchra es,
quam suavis, quam decora.
Tegit terram sicut nebula,
lumen ortum indeficiens,
flamma ignis, Arca federis,
inter spinas ortum lilium,
tronum [S]ion in Altissimis
in columna nubis positum.
O Maria..
Ante sæcula creata
girum cœli circuivit sola,
profundum abissi penetravit.
Et in fluctibus maris ambulavit,
omnium corda virtute calcavit,
et in hereditate Domini morata est.
Tegit terram...
O Maria...
Alleluia.
O Mary
O Mary, how beautiful you are,
how sweet, how comely.
She enfolds earth as a cloud,
a light risen that never fails,
a flame, a fire, the Ark of the Covenant,
a lily grown among the thorns,
the throne of Zion placed on high
in a pillar of cloud.
O Maria...
Before the creation of the ages
she circled the borders of heaven,
and penetrated the depths of the abyss.
And she walked on the waves of the sea,
virtuously tread on the hearts of all,
and abided in the inheritance of the Lord.
She enfolds earth as a cloud...
O Maria...
Alleluia.
Translated by:

David Larrick with revisions by Richard Kolb

Translations by Owen Daly and Dr. David Larrick have been specially commissioned by BarbaraStrozzi.com. Please credit this site and the translators if you choose to use these texts.
Find the score...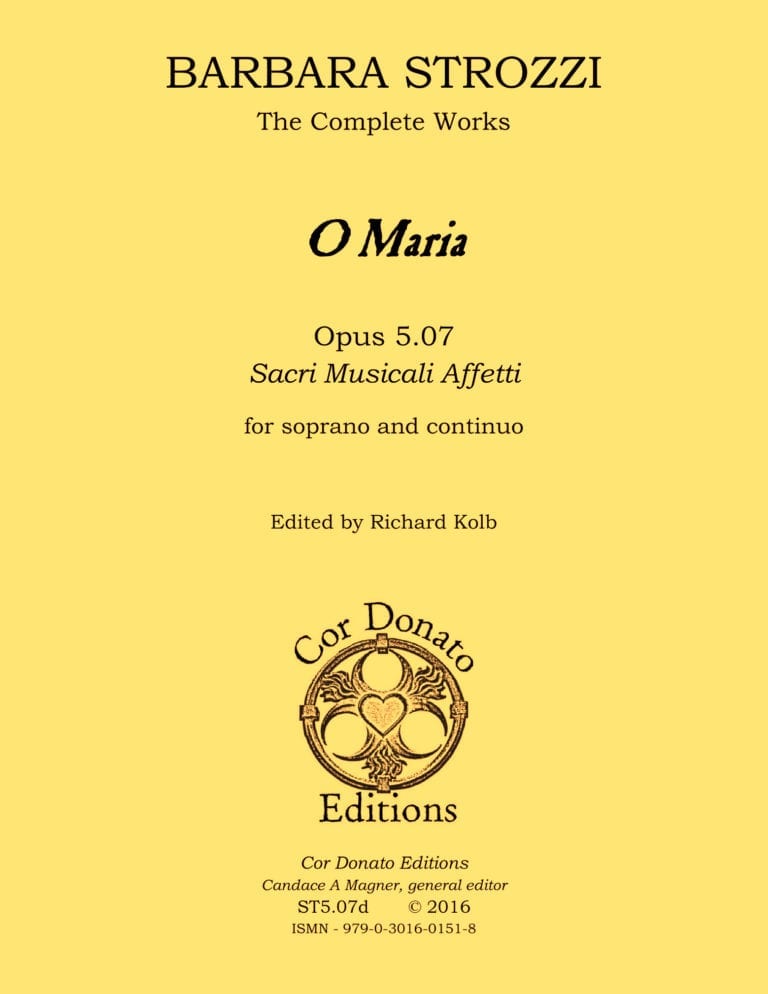 Published by Cor Donato Editions in historically correct modern transcription, including critical introductory notes on the work, editorial procedures, original Italian texts with new English translations, and other contextual information about the piece.
Now available at CorDonatoEditions.com!
Purchase score →