✤ View another piece from this Opus / Collection →
Oleum effusum est and Psalm 21/22
Originally for Soprano and basso continuo.
Once lost, now found!
This motet for the name day of Jesus, January 1 - 2, and Lent / Holy Week, is included in GB-Lam: MS 42 and had been mis-attributed to Carissimi.
In a recent discovery by Dr. Robert Crowe, a manuscript previously attributed to Carissimi in the Royal Academy of Music library [GB-Lam MS42] was found to be primarily from Strozzi's Opus 5, number 13, Oleum effusum est. Crowe had recorded the "Carissimi" some 10 years earlier, but his later familiarity with Strozzi's Sacri Musicali Affetti showed that the pieces were one and the same, with an addition of some 120 measures of music to text from Psalm 21/22. Crowe analyzes the additional music in the context of Strozzi's style and makes a case for the added music being composed by Strozzi herself. (See his Introduction in The Complete Works of Barbara Strozzi: 5.13-add, Oleum effusum est and Psalm 21/22. Cor Donato Editions, 2018.)
In any case, there is no doubt that the first 280 measures of this sacred cantata are the same as Strozzi's music, with small variations being noted in the edition.
Oleum effusum est Nomen eius,
est Nomen quod pietatis Gratiam
et potentiam Majestatis sonat
Sanctum olim et terribile nomen ejus
Sed currite gentes, effusum est Nomen
Quod quicumquae invocaverit Salvus erit
O Nomen nectare dulcius beato,
O Nomen nobile pingue delicatum,
te cantu dicere Angelico debemus,
O Nomen super omne Nomen
Angelorum Deus et Hominum
se Deum nobis estende
Effunde operi manum tuam
et imple omne animal benedictione
venite ad confitendum nomini Domini
Resonet in voce exultationis
et laetitiae sono.
Oleum effusum...
Effusum plene quod non solum coelum
et terras perfudit
sed aspersit et inferos
dum ad hoc sanctum nomen flectitur omnes.
O nomen...
Psalm 22 (with verse numbers)
2 Deus, Deus meus, respice in me: quare me dereliquisti? longe a salute mea verba delictorum meorum.
3 Deus meus, clamabo per diem, et non exaudies; et nocte, et non ad insipientiam mihi.
4 Tu autem in sancto habitas, laus Israel.
5 In te speraverunt patres nostri; speraverunt, et liberasti eos.
6 Ad te clamaverunt, et salvi facti sunt; in te speraverunt, et non sunt confusi.
7 Ego autem sum vermis, et non homo; opprobrium hominum, et abjectio plebis.
8 Omnes videntes me deriserunt me; locuti sunt labiis, et moverunt caput.
9 Speravit in Domino, eripiat eum: salvum faciat eum, quoniam vult eum.
[Vs 10-12 not set to music]
10 Quoniam tu es qui extraxisti me de ventre, spes mea ab uberibus matris meae.
11 In te projectus sum ex utero; de ventre matris meae Deus meus es tu:
12 ne discesseris a me, quoniam tribulatio proxima est,
quoniam non est qui adjuvet.
13 Circumdederunt me vituli multi; tauri pingues obsederunt me.
14 Aperuerunt super me os suum, sicut leo rapiens et rugiens.
15 Sicut aqua effusus sum, et dispersa sunt omnia ossa mea: factum est cor meum tamquam cera liquescens in medio ventris mei.
16 Aruit tamquam testa virtus mea, et lingua mea ad haesit faucibus meis: et in pulverem mortis deduxisti me.
His name is as oil poured out,
it is the name which sounds forth the grace of piety
and the power of majesty.
Holy, therefore, and awesome is His name.
But run, people, poured out is his name;
whoever calls on it shall be saved.
O name, sweeter than blessed honey,
o name, renowned ointment of delights,
you whom we should call Angelic in song,
o name above every name.
For the God of Angels
has extended Himself (as) the God of men.
Pour forth, the works of your hand
and fill every living being with blessing,
come, and in acknowledging the name of the Lord
let ring the voice of exultation
and joyful sound.
His name is as oil poured out...
It is poured out fully, which not only covers
Heaven and earth
But also sprinkles the infernal regions,
while all bend (the knee) to this Holy name.
O name ... above every name.
Psalm 22 (with verse numbers)
2 My God, my God, why hast thou forsaken me?
why art thou so far from helping me, and from the words of my roaring?
3 O my God, I cry in the day time, but thou hearest not:
and in the night season, and am not silent.
4 Our fathers trusted in thee:
they trusted, and thou didst deliver them.
5 But thou art holy, O thou that inhabitest the praises of Israel.
6 They cried unto thee, and were delivered;
they trusted in thee, and were not confounded.
7 But I am a worm, and no man:
a reproach of men, and despised of the people.
8 All that see me laugh me to scorn:
they shoot out the lip, they shake the head, saying,
9 He trusted on the Lord that he would deliver him:
let him deliver him, seeing he delighted in him.
[Not set to music]
10 But thou art he that took me out of the womb:
thou didst make me hope when I was upon my mother's breasts.
11 I was cast upon thee from the womb:
thou art my God from my mother's belly.
12 Be not far from me;
for trouble is near; for there is none to help.
13 Many bulls have compassed me:
strong bulls of Bashan have beset me round.
14 They gaped upon me with their mouths,
as a ravening and a roaring lion.
15 I am poured out like water, and all my bones are out of joint:
my heart is like wax; it is melted in the midst of my bowels.
16 My strength is dried up like a potsherd;
and my tongue cleaveth to my jaws;
and thou hast brought me into the dust of death.
Translated by:

Robert Crowe

Find the score...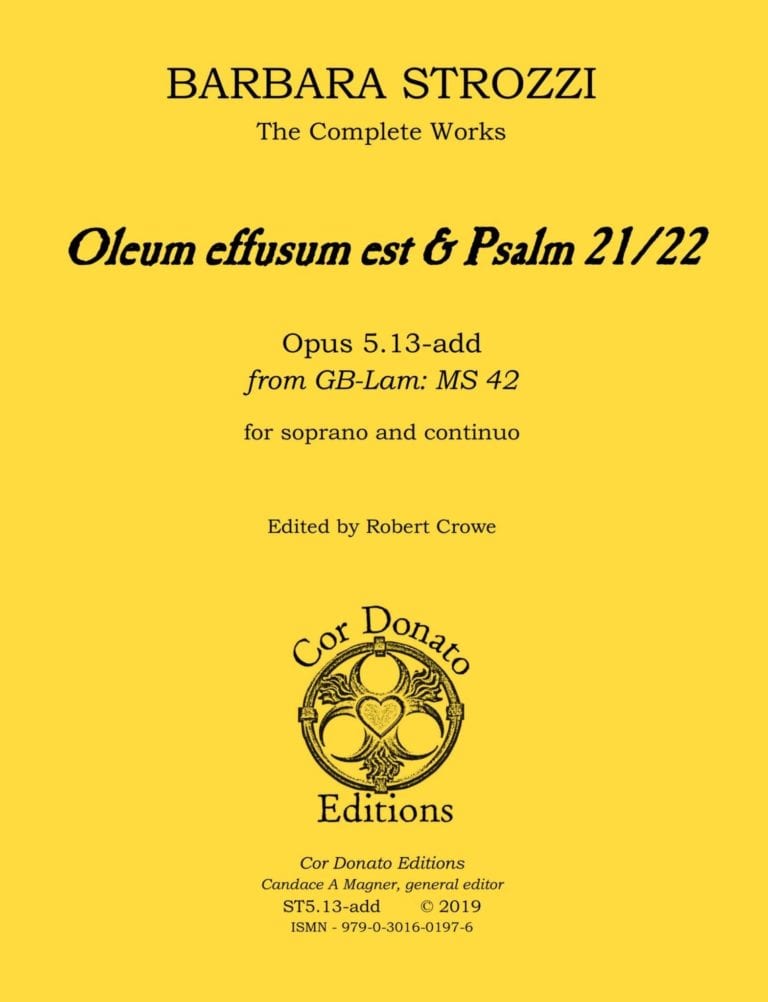 Published by Cor Donato Editions in historically correct modern transcription, including critical introductory notes on the work, editorial procedures, original Italian texts with new English translations, and other contextual information about the piece.
Now available at CorDonatoEditions.com!
Purchase score →