✤ View another piece from this Opus / Collection →
Surgite, surgite
Originally for Soprano and basso continuo.
Surgite, surgite querite
Dominum dum inveniri potest.
Invocate eum dum prope est.
Circuivi civitatem
quesivi illum et non inveni;
vocavi illum et non respondit.
Indicate mihi ubi cubet dilectus meus.
In Altaris Sacramento,
sub diversis speciebus,
ibi latet Christus Iesus,
caro cibus, sanguis potus --
ibi manet Christus totus.
Sumite, edite Dominum
dum seprebet in epulum,
bibite dum se prebet in poculum.
Manducate eum dum panis Angelorum est.
Tenui eum nec dimittam, alleluia,
donec introducam illum in animam meam. Alleluia.
Rise up, rise up
For the Blessed Sacrament
Rise up, seek
the Lord while he can be found.
Call upon him while he is near.
I went all about the city,
I sought him, and I found him not;
I called him and he did not answer.
Show me where my beloved lies.
On the altars, in the Sacrament,
in various appearances
there he lies, Jesus Christ,
body as food, blood as drink—
there lies the whole Christ.
Take up and partake of the Lord
while he offers himself in the banquet,
Drink while he offers himself in the cup.
Partake of him while he is the bread of angels.
I have embraced him and will not let him go, alleluia,
until I have brought him into my soul.
Alleluia.
Translated by:

David Larrick with revisions by Richard Kolb

Translations by Owen Daly and Dr. David Larrick have been specially commissioned by BarbaraStrozzi.com. Please credit this site and the translators if you choose to use these texts.
Find the score...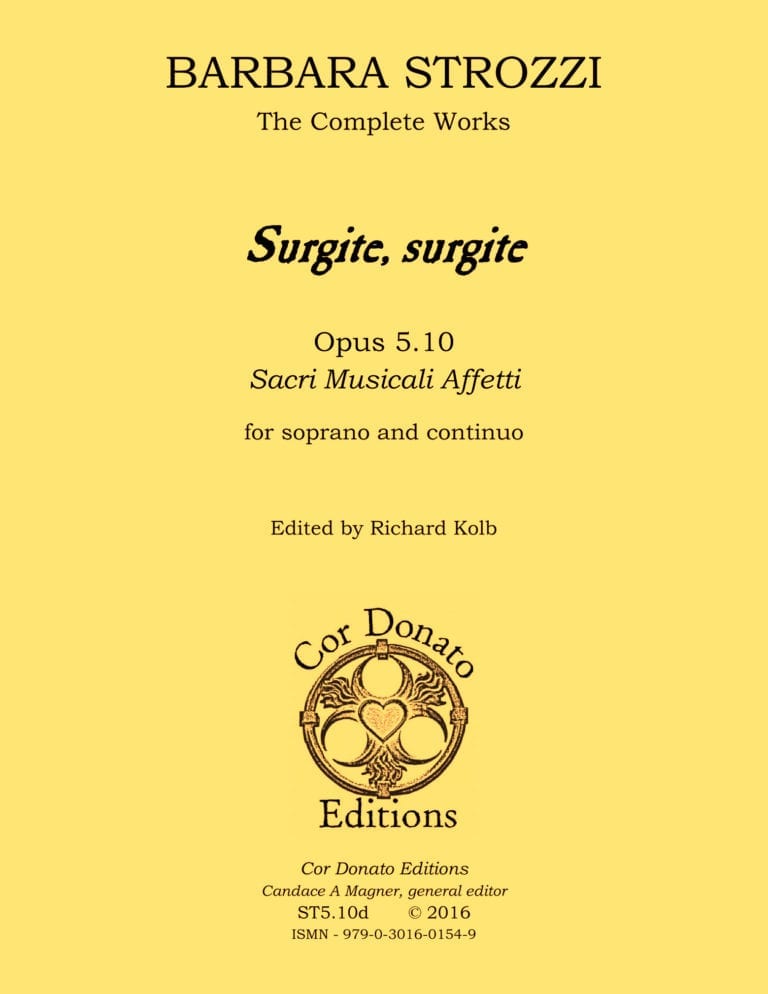 Published by Cor Donato Editions in historically correct modern transcription, including critical introductory notes on the work, editorial procedures, original Italian texts with new English translations, and other contextual information about the piece.
Now available at CorDonatoEditions.com!
Purchase score →